New Funds Search for Canadian Infrastructure Leftovers
Scott Deveau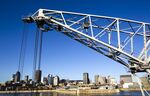 New infrastructure funds are popping up in Canada targeting airports, power plants and hospitals deemed too small for the largest pension funds.
"We often tell people we invest in assets that range from extremely boring to barely interesting," said Gregory Smith, chief executive officer of Toronto-based InstarAGF Asset Management Inc., which is raising money for a C$750 million ($586 million) fund aimed at mid-sized assets across North America, typically valued under C$1 billion.
InstarAGF joins NorthLeaf Capital Partners Ltd, Bastion Infrastructure Group and Fiera Axium Infrastructure Inc. in mimicking pension funds who seek stable returns in infrastructure amid volatile public markets. U.S. stock markets reached records this year while crude oil has slid 60 percent since June.
"There are more players that are interested in this space that have recognized the benefit of investing in stable infrastructure and because of that there is a lot more capital chasing the same types of businesses," said Jack Bittan, senior vice president of business development at Toronto-based Capstone Infrastructure Corp., which has been competing for mid-sized assets since 2004.
While the increased competition plus easy access to credit is driving up prices in the mid-sized market, there are still plenty of opportunities, he said.
Transit, Hospitals
The Federation of Canadian Municipalities has estimated it would cost C$172 billion to update the country's drinking and waste water, storm systems, and roadways. That figure, which amounts to about C$4,900 for every person in Canada, doesn't include the country's transit needs, the group said.
About $3.6 trillion is required for infrastructure spending in the U.S. through 2020, $1.6 trillion of which is unfunded, according to American Society of Civil Engineers' estimates.
InstarAGF, a joint venture between Instar Group Inc. and AGF Management Ltd., a Toronto-based money manager with more than C$34 billion under management, aims to do as much as six transactions a year, targeting renewable energy, transit, utilities, hospitals, schools and other projects, Smith said.
The fund is looking to deploy C$20 million to C$200 million per investment for assets with an enterprise value of C$100 million to C$1 billion, he said.
In January, InstarAGF led a group of investors, including Canadian businessman Larry Tanenbaum's Kilmer Van Nostrand Co., in acquiring the terminal at Toronto's Billy Bishop island airport. The fund has also invested in an early-stage British Columbia wind power development that, along with Billy Bishop, will be the seeds of InstarAGF's infrastructure fund, Smith, 46, said.
Bigger Scale
Pension funds such as the Canada Pension Plan Investment Board require much larger investment projects. Canada Pension, for example, looks for equity investments of C$500 million to C$2 billion, according to spokeswoman Linda Sims.
"The very large funds that you see worldwide, they don't go there," said Pierre Anctil, 55, chief executive officer of Montreal-based Fiera Axium. In addition to Canada Pension, larger assets will attract the attention of huge global players from the Abu Dhabi Investment Authority to private equity firms like KKR & Co. LP, he said.
Fiera Axium, jointly owned by Fiera Capital Corp. and Axium Infrastructure Management, led a group of investors to purchase the Montreal Gateway Terminals Partnership, the largest cargo terminal operator at the Port of Montreal.
Smaller Better?
Chasing smaller targets has meant creating a diversified portfolio, Anctil said. Fiera Axium's first 10-year, C$460 million fund has 23 assets in it. Its second open-ended fund has 40 investments in it, Anctil said.
"So, let's say it's not windy in B.C. but it's sunny in Ontario, we're doing well," Anctil said. "If it's rainy in Quebec, we're happy about that one because we have hydro power."
Evidence shows smaller can be better. Infrastructure funds less than $1 billion in size had a median net internal rate of return of 11.6 percent from 2002 to 2012, according to data from Preqin Ltd., a London-based private-equity research group. Infrastructure funds of more than $1 billion have returned a median of 8.4 percent over the same period, the data show.
Smaller infrastructure funds can give larger institutions access to mid-sized projects without having to dedicate their own resources as well as a vehicle to co-invest in the right projects, said Warren Thomson, chief investment officer at Manulife Financial Corp. Manulife is an investor in Fiera Axium's funds and was a co-investor in its purchase of the Montreal Gateway terminals.
Long Duration
"It is a known fact that we want to add to our alternative long-duration asset class portfolio," Thomson said. Those assets account for about 10 percent, or C$23 billion of the Toronto-based insurer's portfolio, including farmland, oil and gas properties, infrastructure and other assets.
Infrastructure assets are particularly appealing for insurance companies and pension funds which have liabilities that extend further than the typical 30-year window covered by fixed income investments, Thomson said.
The Quebec government introduced a bill Wednesday in the provincial legislature that would allow pension-fund manager Caisse de Depot et Placement du Quebec to develop major infrastructure projects in the province. Manulife would have a "very strong interest" in partnering with the Caisse on those ventures, Thomson said.
Thomson said the biggest advantage these mid-sized funds bring to the market is experience.
Real Player
Anctil was instrumental in building SNC-Lavalin Group Inc.'s infrastructure investment business before leaving the company in 2008. While there, he helped privatize the 407 toll road outside of Toronto and spin off the power transmission business, Altalink, from TranAlta Corp. SNC-Lavalin was among a group of investors who purchased the division for C$850 million. SNC-Lavalin sold AltaLink last May to Warren Buffett's Berkshire Hathaway Inc. for about $5.4 billion including debt.
Smith also brings with him decades of experience, having held executive positions at Brookfield Financial Corp. and Macquarie Capital Funds Canada Ltd. and elsewhere.
"There's a real service being provided for those who don't have the experience to be a real player," Thomson said.
Before it's here, it's on the Bloomberg Terminal.
LEARN MORE