McDonald's Gets Marketing Push on Hamburglar Record Bid
Greg Quinn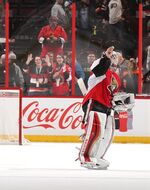 An Ottawa Senators goalie nicknamed the Hamburglar fell short in a quest to break a 1938 National Hockey League record, ending a streak that's given McDonald's Corp. a marketing boost along the way.
Rookie Andrew "Hamburglar" Hammond gave up four goals in a win against the Boston Bruins Thursday, halting his run of 12 games giving up two goals or less to start a career. That leaves him tied with former Boston Bruins goalie Frank Brimsek.
The Senators 6-4 win leaves them just two points back of Boston for the final playoff spot in the eastern conference, as Hammond's play has vaulted the Senators back into the playoff hunt. Hammond remains undefeated in the 13 games he has started for the Senators in replace of injured goalie Craig Anderson.
"Getting the win tonight was a lot more important than even the streak," Hammond told reporters after the game.
Hammond, 27, earned the nickname at Bowling Green State University in Ohio for his ability to gobble up loose pucks, much like the McDonald's character who used to steal hamburgers.
While McDonald's didn't come up with Hammond's nickname -- the Hamburglar character hasn't been used much in the restaurant chain's advertising in more than a decade -- it stands to gain from all the attention Hammond is getting.
The Senators gave away 10,000 Hamburglar masks at the game at Canadian Tire Centre. And a version of the burger chain's character, with his wide-brimmed hat and black mask, is painted on the back of Hammond's goalie mask.
McDonald's also sponsors a "Big Mac Minute" where ticket holders get a free burger if the Senators score within the designated 60 seconds. Hammond's rapid rise is a windfall for that marketing deal, said Steven Lewis, president of the XMC marketing and sponsorship agency.
"If Andrew continues on this run McDonald's will get no less than one million dollars of sponsorship value," Lewis said by telephone from Toronto. "What's amazing about this story in particular is the athlete got the nickname authentically. It made sense because of what his friends called him."
Linsanity
Hammond's rise mirrors the sudden popularity of Jeremy Lin and the "Linsanity" that ensued for the New York Knicks basketball team in 2011, said Eric Smallwood, senior vice president at Philadelphia-based Front Row Analytics. The added marketing value from tonight's Senators game is about $208,000, Smallwood said in a phone interview.
"The greatest thing for a brand is that people are talking about a brand in a positive light, outside of the game," he said.
McDonald's, based in Oak Brook, Illinois, declined to comment on Hammond's impact on sales in Canada's capital city.
"We look forward to hosting him when he has a craving for our hamburgers," according to a statement from spokeswoman Gema Rayo.
Hammond won't have to worry about paying when he gets to the restaurant. The chain plans to give him a card ensuring him free burgers for life, according to the Ottawa Sun paper.
"At the end of the day at least I know I'll never end up starving," Hammond told the paper. "If hockey doesn't work out, I have a meal plan."
Before it's here, it's on the Bloomberg Terminal.
LEARN MORE