Lockheed F-35 Program Costs Decline $7.5 Billion, Pentagon Says
Tony Capaccio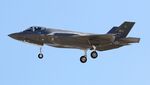 Projected costs for Lockheed Martin Corp.'s F-35 fighter have dipped $7.5 billion, or 1.9 percent, in the last year, primarily because of revised inflation estimates and reduced labor costs, the Pentagon said Thursday.
Projected development and acquisition costs for the F-35 declined to $391.1 billion for a planned fleet of 2,443 planes from $398.6 billion previously, according to the Defense Department.
The updated F-35 costs were were released on Thursday in the Pentagon's compilation of Selected Acquisition Reports on the status of 79 major weapons systems. The annual reports are viewed by lawmakers, analysts and defense contractors as barometers of costs and delays.
The F-35 has drawn particular scrutiny because it's the costliest, and even a small increase or decrease signals a shift of billions of dollars.
Estimates for the fighter include the airframe made by Bethesda, Maryland-based Lockheed and subcontractors Northrop Grumman Corp. and BAE Systems Plc and engines made by United Technologies Corp.'s Pratt & Whitney unit.
The F-35 got an endorsement Wednesday from a longtime critic, Senate Armed Services Committee Chairman John McCain, an Arizona Republican.
"After suffering years of unacceptable cost growth and schedule delays, the program appears to have started to stabilize," McCain said at a committee hearing. Cost and technical challenges remain, he said.
Remaining Funding
At the same time, the Pentagon's independent cost-assessment office projects its estimate for operating and supporting the F-35 over its projected 55-year service life remains at $1.02 trillion, according to the report.
Charts in the Pentagon report also outline how much money has been approved by Congress and the remaining funding required.
For the F-35, $99.5 billion has been approved to date, leaving more than $290 billion to go to buy variations of the aircraft for the Air Force, Marine Corps and Navy.
F-35 airframe costs decreased 1.8 percent, or $5.8 billion, while costs for the engines dropped 2.3 percent, or $1.6 billion, according to the report.
Mike Rein, a Lockheed Martin spokesman, said in an e-mail that the company's share of the projected reduction -- about $4.4 billion -- can be attributed to changes including "improved supply-chain delivery timelines, improved production-line efficiency" and fewer corrections and modifications that needed to be incorporated after testing.
The Pentagon's report contains newer data than one issued this month by the Government Accountability Office, which cited a continued increase in F-35 costs.
Before it's here, it's on the Bloomberg Terminal.
LEARN MORE