Kremlin Murder Trail Leads to Chechnya
Ilya Arkhipov, Evgenia Pismennaya, Irina Reznik, Henry Meyer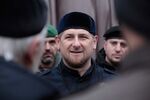 All roads in Russia's investigation into the murder of opposition leader Boris Nemtsov so far lead to Chechnya, where a strongman groomed by President Vladimir Putin is becoming increasingly difficult to control.
The main suspect in the Feb. 27 assassination was the deputy head of an elite police unit loyal to Chechen President Ramzan Kadyrov, the former separatist leader Putin picked in 2007 to eradicate extremists in the North Caucasus region after two disastrous wars. Kadyrov, 38, praised the suspect after his arrest as a "real Russian patriot" and suggested he wasn't guilty, challenging the official line.
Putin was furious when he learned of the killing, which occurred on a bridge near the Kremlin, four people familiar with the matter said. Putin, who took charge of the probe and then disappeared from public view for a week, became even more alarmed when investigators said they'd traced a hit list of other critics to Chechnya, another person said. Putin has given Kadyrov free rein to kill jihadis and create what even former Chechen officials such as Beslan Gantamirov have called a brutal police state.
"Putin has become a hostage to his own policy of radicalizing supporters so they can spring to action whenever he needs them," said Alexander Baunov, a senior associate at the Carnegie Moscow Center. "His authoritarianism is sliding into decentralized terror. His backers think he's much more radical than he really is and are acting without clear orders."
'Brave Warrior'
The five people arrested in connection with the Nemtsov murder are all from Chechnya, a Kuwait-sized region of 1.3 million mainly Muslims between the Black and Caspian seas. Another suspect, also a veteran of Kadyrov's forces, was killed by a grenade during a manhunt in the regional capital Grozny, according to the Interfax news service. Kadyrov called him a "brave warrior."
Ivan Gerasimov, a lawyer for the chief suspect, Zaur Dadayev, said his client has an alibi for the night of the killing that he's trying to confirm. Kadyrov, who has called the murder a "treacherous" act, declined to comment through his press service, as did Putin's spokesman, Dmitry Peskov.
Russia has tried to subdue Chechnya with varying degrees of success since at least the 16th century. The region declared independence as the Soviet Union collapsed in 1991 and a military campaign to regain control in 1994 to 1996 failed. Russia sent troops into Chechnya again in 1999, two weeks after Putin became prime minister, and his pledge to "wipe out" Muslim extremists helped propel him to the presidency.
Pacification Program
After Kadyrov's father, Akhmad Kadyrov, was killed in a bomb attack while serving as Chechen president in 2004, Ramzan won a bloody power struggle among rival militias. Putin picked Kadyrov to be the key player in his pacification program, making him deputy premier of the region, then premier and finally president when he turned 30, the minimum legal age.
With Chechnya now largely under control and Putin focused on the conflict in Ukraine, Kadyrov has become increasingly brazen and unpredictable, which many people in the security services see as a threat that needs to be dealt with, according to a former senior officer of the Federal Security Service, or FSB. Armed groups of Chechens protected by Kadyrov have become so aggressive in many parts of the country that local businessmen can no longer rely on the FSB for help, he said, declining to be identified to avoid reprisal.
A faction or factions within the intelligence services may have helped organize the attack on Nemtsov to implicate Kadyrov and force his removal, a person close to the Kremlin said, declining to be identified discussing internal matters.
Private Army
Kadyrov has essentially created a personal army and increasingly sees himself as a national leader, particularly among the country's 15 million or so Muslims, the person said.
Gleb Pavlovsky, a political analyst who advised the Kremlin during Putin's first two terms, said the president's relationship with Kadyrov has clearly soured, regardless of whether the Chechen leader was involved in Nemtsov's murder.
"Putin didn't like Kadyrov's absolutely inappropriate comments praising the main suspect," Pavlovsky said. "He's clearly been in a very bad mood since the murder and his mood is getting worse as the investigation goes on."
The most likely motive for the crime, whoever committed it, according to the Investigative Committee, is Nemtsov's condemnation of the people who murdered cartoonists of the satirical French newspaper Charlie Hebdo for publishing caricatures of Muhammad. This contradicts an investigation by Russian newspaper Moskovsky Komsomolets, which found that the Chechen suspects had been following Nemtsov for months.
'Personal Enemy'
Kadyrov led hundreds of thousands of Muslims in a nationally televised protest against Charlie Hebdo's backers after the January attack in Paris. From the stage, he called former billionaire Mikhail Khodorkovsky, who spent a decade in prison and now lives in Switzerland, his "personal enemy" for urging other publications to reprint the cartoons.
In December, Kadyrov, who's always denied the accusations of extrajudicial killings and torture that human rights groups have made for years, summoned about 20,000 of his elite guard for a rally in Grozny and told them to prepare to carry out any order from Putin "anywhere in the world." Forces loyal to Kadyrov have fought alongside rebels in eastern Ukraine, according to two people familiar with the matter.
'Unspoken Contract'
Nemtsov, a former first deputy premier, said after that rally that he didn't understand what Putin thinks Kadyrov's forces will do when he's forced to end their "unspoken contract" of money for loyalty because of budget contstraints.
"Where will these 20,000 Kadyrovtsy go?" Nemtsov said on his Facebook page. "What will they demand? How will they behave? When will they come to Moscow?"
Supporters of Nemtsov blame Putin for a national media campaign they say encourages violence against people opposed to the government's involvement in the conflict in Ukraine. State television networks have branded these people traitors.
Nemtsov, who was preparing to publish a report on Russia's role in the war, was slain less than a week after the Kremlin approved a heavily promoted ''Anti-Maidan" rally in central Moscow. The event was named after Independence Square in Kiev, where months of protests led to the ouster last year of Putin's ally Viktor Yanukovych. Tens of thousands of people, including supporters of Kadyrov, marched under banners demanding that Putin's opponents be "purged."
'Worst Fears'
"Our worst fears are being realized," Ilya Yashin, a longtime Nemtsov ally, said on his Facebook page. "A scapegoat will be held responsible for the crime and those within the government who really ordered it will remain free," he said, echoing the position of many opposition leaders.
The government has a long history of blaming Chechens for high-profile contract killings without offering full accounts of the crimes. Two of the most outspoken critics of Kadyrov and Putin, investigative reporters Anna Politkovskaya and Natalia Estemirova, were shot dead while working on stories about corruption and violence in Chechnya in 2006 and 2009, respectively, which both men deny any involvement in. Both women worked for Novaya Gazeta, the Moscow-based newspaper nominated for this year's Nobel Peace Prize.
Politkovskaya was murdered in her Moscow apartment building on Putin's birthday, not long after telling Ekho Moskvy radio that Kadyrov was the "Stalin of our times" and that she was working on a story that implicated him in torture and kidnapping. Estemirova was abducted in Grozny, shot in the head and chest, and dumped by a road in neighboring Ingushetia.
The Chechen leader maintains that everything he does is in service to Putin, a man so great he's worth dying for.
"We are foot soldiers for the president," Kadyrov said on Instagram last week, after Putin bestowed on him the Order of Honor "for work-related achievements," an award the Kremlin said was planned long before Nemtsov's death.
"To give one's life for such a man is the easiest task," Kadyrov said.