HSBC Trumped by China Finance Upstart Tencent: Chart of the Day
Darren Boey and Paul Panckhurst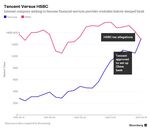 Tencent Holdings Ltd., the Chinese online messaging company that's evolving into tech-driven financial services, is now worth more than one of the region's pioneering banking giants, 150-year-old HSBC Holdings Plc.
Founded by Ma Huateng in Shenzhen in 1998, Tencent's market capitalization this month eclipsed London-based HSBC. The CHART OF THE DAY shows the Internet company's value as of Thursday was HK$1.36 trillion ($175 billion) versus about HK$1.28 trillion for HSBC, which was founded in Hong Kong and Shanghai in 1865.
The convergence in market values reflects the divergent fortunes of a mature bank dealing with a tax scandal and post-financial crisis burdens and a Chinese Internet leader moving into banking with its WeBank online venture.
"Tencent is an exciting, developing company that still has immense room to grow, while HSBC is kind of at the end of a phase in its life where it has to choose a direction," said Andrew Clarke, director of trading at Hong Kong brokerage Mirabaud Asia Ltd. "HSBC has somewhat lost its way and, as the share price reflects, shareholders' confidence in what it does next. There's really not much of a growth story versus Tencent."
Tencent's fourth-quarter net income jumped 50 percent from a year earlier, the company said this week. Most of its business is in China, where its WeChat and QQ messaging services have more than 1 billion users. Besides making money from advertising and games, the company offers payment services and a platform for money-market funds.
By contrast, HSBC's pretax profit in the fourth-quarter slumped 56 percent. Profitability has declined amid rising compliance costs, requirements for extra capital and fines from regulators. In London, bookmakers are offering odds on Chairman Douglas Flint's exit amid a scandal over a Swiss unit that helped clients to evade tax.
Before it's here, it's on the Bloomberg Terminal.
LEARN MORE