Holcim, Lafarge Agree on Terms in Effort to Rescue Merger
Aaron Kirchfeld, Francois de Beaupuy and Jacqueline Simmons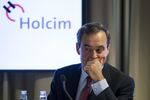 Holcim Ltd. and Lafarge SA agreed on new merger terms and management changes in an effort to salvage the creation of a $48 billion cement company, while leaving open the contentious question of who will be chief executive officer.
Lafarge chief Bruno Lafont will now become co-chairman of the new entity alongside Holcim Chairman Wolfgang Reitzle, following resistance to Lafont becoming CEO. The companies also revised the exchange ratio so that Switzerland's Holcim will give 0.90 of a share in return for one share of Paris-based Lafarge, instead of the original one-to-one ratio.
Holcim, in a letter to the French company on Sunday, had demanded a bigger stake and questioned the ability of Lafont to reach savings targets after its business outperformed Lafarge since the deal to create the world's biggest cement maker was announced in April. Lafont and Holcim managers also clashed over issues including leadership style and strategy, people familiar with the situation have said.
A merger of such a size "doesn't come without tension sometimes," Lafont told reporters on a call today. "My attitude since Sunday is to show that men must not block the implementation of this merger."
A new CEO will be proposed to both boards in coming weeks, Lafont said. A Lafarge candidate for CEO has been identified, according to people familiar with the matter. Beat Hess, a high-profile Swiss executive and board director at Holcim, will be vice-chairman.
M&A Bonanza
Lafarge rose as much as 4.6 percent in Paris, while Holcim shares gained as much as 2.2 percent in Zurich.
Holcim and Lafarge have predicted the merger will lead to cost savings of 1.4 billion euros annually, giving them an advantage over rivals as a global recession eroded demand for building materials and forced some kilns to run at a loss.
The decision to create a cement giant pushes the boundaries of M&A in an industry that had already seen heady, debt-fueled acquisitions in the run up to the financial crisis in 2008. Following the initial agreement last year, Holcim came under pressure from investors who increasingly saw the terms of the deal as unfavorable to them.
Shareholder Support
"The breakthrough was only possible because all participants considered the interests of the new company to be more important than personal ambitions," Holcim's biggest shareholder, Thomas Schmidheiny, said in a statement, adding that he's happy with the outcome. "It is a strong sign that the industrial logic of the merger and the related long-term perspectives succeeded."
The combined company will have a market value of about 47 billion Swiss francs ($47.6 billion) based on today's price for Holcim stock and the number of shares that will be outstanding after the transaction closes.
The deal, with the renewed suppport of "certain key shareholders of both companies" should be completed in July, the cement makers said. Subject to shareholder approval, the new company will announce a "post-closing scrip dividend" of one new Lafarge-Holcim share for each 20 existing shares. Holcim was advised by Perella Weinberg Partners, led by Dietrich Becker, and Goldman Sachs Group Inc., headed up by Francois-Xavier de Mallmann. Lafarge worked with Zaoui & Co., led by co-founder Michael Zaoui, and Rothschild, with bankers Francois Wat and Gregoire Heuze.
Sanford C. Bernstein analyst Phil Roseberg said it's not certain whether the new agreement will rescue the deal.
"It's not the end of the story," he said in a note. "The fate of the merger still rests with Holcim's shareholders. The boards have secured an adjustment, but is this enough to convince shareholders?"
For the merger to go through, at least two-thirds of Holcim shareholders still must approve a capital increase.
Personality Clash
The dispute over leadership by the 58-year-old Frenchman Lafont shows how a clash of personalities can become the biggest liability in mergers. The gum-chewing, cigar smoking Lafont and soft-spoken Holcim CEO Bernard Fontana, who was due to remain in his post until the merger completion, have disagreed on key issues from the start, a person familiar with the matter said earlier this week.
"A face saving position has been found for Mr. Lafont, but the boards couldn't find a new CEO within the ranks of Lafarge," said Sanford C. Bernstein's Roseberg. "They will now have to look outside, which is probably what they should have done in the first place."
Before it's here, it's on the Bloomberg Terminal.
LEARN MORE