Grover Norquist Would Like You to Read Jeb Bush's Lips
The anti-tax crusader is quick to remind the former Florida governor what his father said about breaking his own tax pledge.
By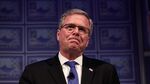 To hear Grover Norquist tell it, America could be heading for "read my lips," the sequel. 
On Thursday, Norquist's group, Americans for Tax Reform, sent out a blistering press release attacking Jeb Bush for his refusal to sign its "Taxpayer Protection Pledge." The promise not to raise taxes is something of a sore spot for the Bush clan among conservatives, and the release homed in on the broken pledge of Bush's father, President George H.W. Bush, as evidence as to why his son should not follow suit. 
"George H.W. Bush, reflecting on his 'Read My Lips' tax hike, deemed it the greatest mistake of his presidency," the press release states, before taking his son to task for claiming that his father's breaking of the 1988 pledge actually ushered in an era of government spending restraint. 
In a 2012 interview, Jeb Bush said that while his father's deal with congress to raise taxes in order to help shrink the deficit proved disastrous politically, it was "helpful in creating a climate of more sustained economic growth."
Norquist and his group hold sway with many Republicans, including Wisconsin Governor Scott Walker, Louisiana Governor Bobby Jindal, Kentucky Senator Rand Paul, Texas Senator Ted Cruz, Florida Senator Marco Rubio, and former Texas Governor Rick Perry, all of whom have signed the Taxpayer Protection Pledge. 
Not every conservative is equally enamored with Norquist, however, and not because of anything that has to do with tax pledges. Media personality Glenn Beck has knocked Norquist over his alleged ties to the Muslim Brotherhood.