Ex-Moore Trader Rifat Gets 19 Months Jail on Insider Trading
Suzi Ring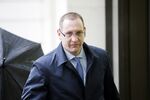 Former Moore Capital trader Julian Rifat was sentenced to 19 months in jail by a London judge for insider trading following the biggest probe of its kind by British regulators.
Rifat was fined 100,000 pounds ($147,300) and ordered to pay about 159,000 pounds in legal costs at the hearing on Thursday after pleading guilty in November to trading using illegal tips in companies including Barclays Plc, Volkswagen AG and Metro AG.
Judge Alistair McCreath said he must "have regard to the effect of this offense, this behavior, on confidence in the market" in determining the sentence. "Public confidence in the integrity of the market is plainly of the highest importance and insider dealing of this kind impacts adversely upon that," McCreath added.
Rifat, 45, was arrested in March 2010, on his 41st birthday, and is one of the most high-profile people the U.K. Financial Conduct Authority has pursued. Rifat passed inside information to Graeme Shelley, a broker at London-based Novum Securities Ltd., who then traded for their joint benefit, according to the FCA. Profits from the transactions exceeded 285,000 pounds.
The men were arrested in the U.K.'s largest insider-trading probe, dubbed Operation Tabernula. The investigation started after the Financial Services Authority -- as the regulator was then known -- stepped up its efforts to prosecute the offense in the wake of the financial crisis. Tabernula is Latin for "little tavern."
'Abused Rules'
Shelley pleaded guilty in March 2014 and received a two-year suspended sentence. He also pleaded guilty to insider trading with former Legal & General Group Plc equities trader Paul Milsom, who was sentenced to two years in prison in 2013.
Rifat, once named in a list of "Institutional Investors That Matter," held a "pivotal" role at Moore, making him privy to market sensitive information, the judge said, another factor he took into account in the sentencing.
Rifat "exploited financial markets during a particularly challenging time just as they were taking steps to recover from the 2008 crisis," Georgina Philippou, the FCA's acting executive director of enforcement and market oversight, said in a statement Thursday. "The smooth running of our financial markets requires market professionals to play by the rules – Mr. Rifat knew the rules, but he abused them for his own benefit."
Before it's here, it's on the Bloomberg Terminal.
LEARN MORE