Everest Climber Drills Refugee Camp Water Wells in Africa
Colin McClelland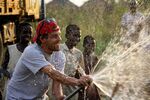 James Wilde has climbed the tallest peaks on every continent, including Mount Everest. Now he's drilling in Uganda for water to aid refugees fleeing South Sudan's conflict.
Global H20 was founded by Wilde after he caught dysentery from contaminated water on Tibet's Mount Cho Oyu in 2009. Since then, the charity has won contracts to drill wells and dig latrines for refugee camps accommodating some 80,000 who escaped from South Sudan. A new Angola chapter kicks off operations on Sunday, the United Nations' annual World Water Day.
"When I came off the mountain, I was educated by the Chinese on the water issue and why I was sick," Wilde, 44, an American in charge of strategy at state-run Angola Telecom, said in a phone interview from Angola's capital, Luanda. "Our first project was completed in Uganda in February 2010 just before I climbed Everest."
Refugee camps, often built quickly and filled beyond capacity, can have inadequate access to clean water while Africa is challenged by some of the lowest rates of accessibility, according to the World Health Organization. In Angola, 54 percent of the people regularly use clean water while that figure is 75 percent in Uganda, the UN agency said.
Global H2O is targeting banks and oil explorers to help Angola, Africa's second-largest crude oil producer, make its $2 billion water program more efficient. The government currently trucks water from lakes and rivers.
"Angola's Water for All program has invested in what we believe are non-sustainable projects," said Wilde, a Manhattan native with an MBA from the University of South Carolina. "Our solutions are one-time investments" and built to last 20 years.
'Moving Mountains'
Wilde, who chronicled the seven summits on seven continents achievement in his 2013 book "Moving Mountains," said he's in funding talks with companies such as BP Plc, Exxon Mobil Corp. and Total SA. They pump most of Angola's daily production of 1.81 million barrels of oil from offshore wells. Standard Bank Group, Africa's largest lender, Banco BIC SA, with the most branches in Angola, and Banco Angolano de Investimentos SA are also on his list.
The charity, which landed $1.3 million of contracts in Uganda in March, raised about $550,000 for 50 projects it's done there. It's targeting $1 million in donations this year. Wilde also is eyeing water aid for schools near the border inside war-riven South Sudan.
"I hope to get our trucks and quietly cross the border, drill five to six holes and leave before anyone takes notice," said Wilde, who has crisscrossed Angola in a Range Rover trying to return Angola Telecom to profitability. "It's still quite dangerous in South Sudan and I won't reveal dates or exact plans for the safety of the crew."
German Donors
The Uganda project in the Kiryandongo, Kamawenge and Lamwo camps may serve clean water to about 40,000 refugees, he said. Donors include Stop Hunger Now and Christ Church of North Carolina, brakes maker Knorr-Bremse AG and Felix Eichbauer, owner of the Michelin two-star Munich restaurant Tantris. Wilde used to live in Germany and speaks the language.
Global H20 creates community water committees staffed 70 percent by women, who do most of the water hauling by bucket. The women gain leadership roles while the wells allow families to improve productivity and children to spend more time in schools, he said.
Wilde said his non-political, non-religious charity helped by David Simons and Chris Wooten of North Carolina uses 92 percent of all donations on projects because overheads are small.
"Our goal is not only to alleviate the lack of water and sanitation but to teach communities how to take care of themselves," he said. "Water and sanitation are the largest two levers to allow communities to escape poverty."
Before it's here, it's on the Bloomberg Terminal.
LEARN MORE