China Mobile Drops $9 Billion in Value as Profit Slide Worsens
Bloomberg News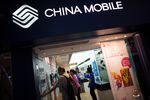 China Mobile Ltd. saw $9 billion erased from its market value after the company posted its largest annual profit drop since 1999 amid rising spending on a new high-speed network.
Shares in Hong Kong slumped 3.3 percent, the most since September. Net income dropped 12 percent to 26.7 billion yuan ($4.3 billion) in the fourth quarter, according to figures derived from annual results the Beijing-based company reported Thursday.
The world's biggest carrier by subscribers, which started offering Apple Inc.'s iPhone 6 in October, spent more to promote its fourth-generation network to stoke demand for data sales. Costs to market and support the faster service, which makes watching videos or streaming music easier for smartphone users, helped drag yearly profit down by 10 percent.
"The results are slightly below my expectations for both sales and net," said Ricky Lai, a Hong Kong-based analyst with Guotai Junan International Holdings Ltd. "The company had to launch incentive programs to migrate 2G subscribers to its 4G network."
The push to get older subscribers to upgrade also lowered the average revenue per user, as traditional 2G customers consume less data after they shift, Lai said.
The stock closed at HK$100.10 in Hong Kong, paring this year's gain to 11 percent.
Sales Slide
Sales in the fourth quarter fell 4.2 percent to 160.2 billion yuan. That compares with the 165.8 billion-yuan average of four analyst estimates compiled by Bloomberg.
China Mobile had 800 million subscribers at the end of December, which included more than 90 million on the new 4G network, the company said.
"We are facing severe challenges from intensified competition," Chairman Xi Guohua said in the statement. "Competition among traditional operators focusing on existing customers and business and data traffic will be further intensified, with a more diverse range of competitors in a more complex competitive landscape."
China Mobile projects capital spending this year will drop about 6.5 percent to 199.7 billion yuan, from the 213.5 billion yuan spent last year, Xi said.
Adjustments of government policies will also have considerable impact on the company, Xi said.
The State-owned Assets Supervision and Administration Commission told China's three carriers to cut the amount they spend on subsidies and advertising for devices, such as the iPhone, people familiar with the matter said in July.
Lower Subsidies
After the government directive, China Mobile cut spending on subsidies by 29 percent last year to 18.8 billion yuan, Xi said at an earnings conference in Hong Kong. This year, the company will cut its sales and marketing budget by 20 percent, he said, without supplying a specific figure.
When China Mobile released the iPhone 6 and 6 Plus in October, it offered no direct subsidies for the hardware. Instead, customers were given discounts on calling plans depending on their monthly spending.
On the most expensive plan, the total discount of as much as 3,264 yuan over two years was equal to about 62 percent of the cheapest iPhone 6.
The policy shift alone wasn't enough to boost profit, said Wang Jinjin, a Beijing-based analyst with UBS AG.
"Selling costs declined by 17.5 percent year on year, representing 16 billion yuan, given the mandate from the government to cut down selling and marketing costs," Wang wrote in a note to clients. "Other expenses rose."
Rivals Miss
Wang said network maintenance, operating lease charges, depreciation and other items added about 18.8 billion yuan of costs.
Results in the period were also affected by the June 1 imposition of a new value-added tax on telecommunications services.
China Mobile was the last of the nation's three state-owned wireless companies to report results for last year. Both of the others reported full-year results that missed analysts estimates. China Unicom (Hong Kong) Ltd. this month reported 2014 net income of 12.1 billion yuan, trailing the average estimate of 12.6 billion yuan. China Telecom Corp.'s profit of 17.7 billion yuan missed the average estimate of 18.2 billion yuan.
— With assistance by Edmond Lococo, and Lulu Chen
Before it's here, it's on the Bloomberg Terminal.
LEARN MORE