Uber's Car-Hailing Service Banned in Germany, Court Says
Richard Weiss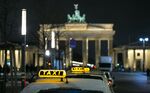 A German court ordered Uber Technologies Inc. to stop its ride-hailing service in the country for profit, dealing a blow to the startup's expansion plans outside the U.S.
It is anti-competitive that Uber routes requests for rides via its UberPop application to drivers "that have no legitimation according to the Passenger Transportation Act, and hence the company is instigating to break the law," the Frankfurt regional court said in a statement Wednesday.
The verdict will affect Uber's services in Frankfurt and Munich. In Dusseldorf, Berlin and Hamburg, the company has already changed its business model, cutting the fare it charges to as little as 35 euro cents (37 U.S. cents) per kilometer -- effectively turning UberPop into one of Germany's many non-profit share-a-ride services -- to evade an earlier ban issued by local authorities.
"This is a setback, in particular, for all those who want more of a choice when it comes to their personal mobility," San Francisco-based Uber said in a statement. "It is also a setback for society as a whole, because for the time being most individual transport services will remain expensive and thus not be affordable for everyone."
Uber said it would probably file an appeal. Today's ruling doesn't affect its UberBlack limousine service and uberTAXI offers. "We will not give up on the German market," it said.
Taxi Deutschland
Uber is fighting cab-dispatcher association Taxi Deutschland, one of its fiercest enemies in the local market. A court last year granted Taxi Deutschland an injunction under fast-track proceedings. After Uber was able to topple that ruling by showing there was no emergency situation, the cab group filed today's suit under regular rules.
In Europe, obstacles ranging from slow adoption, protesting taxi drivers to outright bans have threatened Chief Executive Officer Travis Kalanick's expansion plans. Investors last year valued the startup at $40 billion, partly based on its growth prospects worldwide.
In France, police started handing out fines to Uber drivers in recent weeks as it enforces a taxi law that bans practices including some used by UberPop. Uber has said the rule leaves room for interpretation. Police officers raided Uber's Paris office earlier this week, an operation Thibaud Simphal, who heads the French unit, called "disproportionate."
In January, Kalanick told a conference in Munich that he would add 50,000 jobs in Europe if cities from Milan to Madrid change regulations to allow his car-booking service to grow.
Today's ruling can be enforced only after Taxi Deutschland makes a deposit of 400,000 euros, according to the Frankfurt court. A spokeswoman for Taxi Deutschland said it would make the payment immediately.
"It would be good if Uber would now realize that consumer protection and safety for passengers prevail in Germany and if the company stopped keeping the courts busy," Taxi Deutschland said in a statement.
Today's case is: LG Frankfurt am Main, 3-08 O 136/14.
Before it's here, it's on the Bloomberg Terminal.
LEARN MORE