This Stock Few Analysts Like Rising on Small Business, Rate Bet
Anna-Louise Jackson and Anthony Feld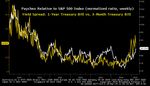 Paychex Inc.'s stock is leading the broader market on optimism that higher interest rates and more small-business creation will buoy the payroll-service provider's profitability.
The Federal Reserve is more likely to begin a modest tightening cycle this year amid the backdrop of a gradually strengthening U.S. economy, said Chris Bertelsen, chief investment officer of Global Financial Private Capital LLC, a Sarasota, Florida-based wealth manager with $4.5 billion in assets. That's poised to benefit Paychex in two ways:
- The company generates income from interest earned on money it holds for clients, a so-called float, so rising interest rates boost its net income.
- A better economy means more small businesses will open, which is a "direct benefit to earnings growth," he said.
Shares of the Rochester, New York-based company have outpaced the Standard & Poor's 500 Index by 8.7 percentage points since Jan. 30, as the stock price ratio is the highest since January 2014 -- see chart. During the same period, the probability the federal funds rate will be 0.5 percent or higher after the central bank's September meeting has risen to about 55 percent as of March 17 from almost 39 percent.
Paychex stock closed at $51.01 on March 17, while the S&P 500 Index was at 2,074.28. The company is scheduled to release fiscal third-quarter results March 25. The implied one-day stock-price move after its report is 2.1 percent, according to data compiled by Bloomberg.
About 65 percent of Paychex's clients are small U.S.-based companies, each with fewer than 10 employees, according to a report written by Jeffrey Silber, an analyst in New York at BMO Capital Markets. This is a "big driver" for the Paychex, which also provides human resources-outsourcing, and there's anecdotal evidence that "on a net basis, there are more small businesses being created than being destroyed," Silber said in an interview.
Internal company data, along with figures from the Bureau of Labor Statistics, indicate small-business formation is "trending upward," Efrain Rivera, Paychex's chief financial officer, said in a telephone interview.
He confirmed that rising interest rates could boost Paychex's profitability, adding the company manages about $4 billion in client funds and approximately $900 million in its own corporate investments.
- About 45 percent of the total is in very short-term instruments, such as overnight deposits, so a quarter-point increase in the Fed's benchmark rate would generate a "cascading and immediate" boost of about $4 million in annualized, after-tax income, Rivera estimated.
- The remaining funds are in intermediate-term municipal bonds with an average duration of approximately three years, and as much as $500 million in this portfolio matures and reprices each year.
- If yields on similar municipal bonds rise by 25 basis points, or 0.25 percentage point, that translates to an additional $1 million in annual income in the first year, he said.
Silber maintains a market-perform recommendation on Paychex, partly because its valuation already reflects some additional income growth from potential interest-rate increases, he said. The stock currently is trading at about 24 times his estimate of $2.07 for calendar year 2016 earnings, which compares with its historical average of about 20 times. Silber said his forecast "may prove to be conservative" because he's only incorporated one Fed rate increase of 25 basis points by June 2016.
While Bertelsen expects the Fed will "bump up interest rates a few times" during the next year, there are other reasons why Paychex's stock is "an interesting story," he said, adding that his company doesn't currently hold it.
- It "pays investors to wait for the macro-environment to improve" because its dividend yield -- currently at 2.98 percent -- is higher than the S&P 500 Index's 1.99 percent.
- The percentage of analysts with sell recommendations is near a 10-year high, according to data collected by Bloomberg -- see chart. "As a life-long contrarian, I like to see an unloved stock" outperforming, Bertelsen said.
- Paychex shares are outpacing the broader market as the rate spread between 1-year and 3-month Treasuries widens -- see chart. "Rising short-term rates are a benefit to our stock," so as that yield gap increases, the share price goes up, Rivera said.
Even so, Paychex's business could take a hit amid rising competition, particularly in the mid-market and enterprise segments, Silber said. So-called pure-play technology companies such as Ultimate Software Group Inc. and Workday Inc. are entering this market and "pose a threat," he added. "Competition is always something that everybody brings up as a concern."
Still, the company has "better visibility" about the pace of the U.S. economy and is "more nimble" than some of its competitors, which is one reason the stock is appealing, Bertelsen said.
"This absolutely passes some of the smell tests for investment right now," he said.