Chris Christie Signs Bill Allowing Tesla to Start Direct Sales in New Jersey
Terrence Dopp and Dana Hull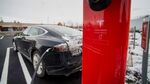 Tesla Motors Inc. will be allowed to sell its electric cars straight to consumers in New Jersey, resuming those deliveries after Governor Chris Christie signed a bill overhauling the state's dealership laws.
Christie on Wednesday said he signed legislation allowing direct sales by manufacturers of zero-emissions vehicles. The law requires Tesla to maintain a service center in the state where consumers can have their cars fixed. The governor, a Republican, previously said he would sign such a bill.
"We are proud to tell New Jersey that we are open for business," Diarmuid O'Connell, the company's vice president of corporate business development, said in a statement.
The measure caps a yearlong struggle by Tesla and its supporters to allow the sales. Tesla has sold more than 600 Model S sedans in New Jersey, but the state's Motor Vehicle Commission voted unanimously in March 2014 to bar direct sales.
"We're pleased that manufacturers like Tesla will now have the opportunity to establish direct sales operations," Christie said in a statement.
After New Jersey's decision last year, the Palo Alto, California-based automaker turned its shops into "galleries" that refer would-be buyers to stores in Pennsylvania and New York.
Vehicle Shopper
At the Tesla outlet in Short Hills, New Jersey, there was one complete vehicle and a chassis on Wednesday afternoon. Chris Lee, a driver for OnPoint WorldWide, checked out the car for his boss, who is considering adding a Tesla to the transportation service's fleet. Lee said he preferred having the option to buy the car in person rather than being forced to do it online.
"The way it was before, I would've been apt not to buy it if there was a certain way to get it, hoops I had to jump through to get it," Lee said.
Tesla Chief Executive Officer Elon Musk has criticized the argument that dealers protect consumers from car manufacturers.
"Unless they are referring to the mafia version of 'protection,' this is obviously untrue," he wrote in a post last year on the company's blog addressed to New Jersey residents. "Consumer protection is pretty much the furthest thing from the typical car dealer's mind."
The New Jersey Coalition of Automotive Retailers still opposes the legislation signed by Christie, saying that Tesla's model creates a vertical monopoly and eliminates competition.
"The factory-store model advocated by Tesla generates jobs, tax revenue and economic benefits in Silicon Valley and on Wall Street, but not here in New Jersey," James B. Appleton, the group's president, said in a statement.
Tesla rose 3.1 percent to $200.71 at the close in New York. The shares have declined 9.8 percent this year.