Starbucks Planning 2-for-1 Split, Its First in Almost Decade
Nick Turner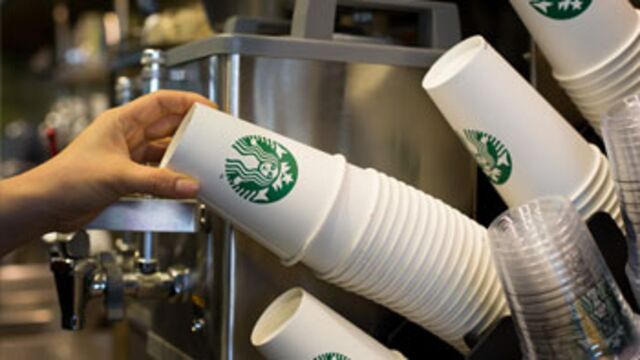 Starbucks Corp. is planning a 2-for-1 stock split, its first such move in almost a decade, after shares of the coffee-house chain reached a record high last month.
Investors of record on March 30 will receive an additional share for each one they hold, the Seattle-based company said in a statement on Wednesday. The shares will begin trading on a split-adjusted basis on April 9.
"This split is a direct reflection of the past seven years of increasing shareholder value," Starbucks Chief Executive Officer Howard Schultz said in the statement. "Shareholders are experiencing an all-time high in value as we continue to deliver world-class customer service and, in turn, record profits and revenue."
Starbucks' action is an increasingly rare one in an American stock market that is dominated by institutional investors and exchange-traded funds, which don't care about the absolute price of a share. Splits reached their apex in the 1990s when companies sought to broaden their appeal to individuals lured by the biggest bull market since the 1920s.
After Starbucks shares declined in 2007 and 2008, hurt by the recession and financial crisis, they have climbed for six straight years. The stock rose 1.6 percent to $95.85 as of 2:13 p.m. in New York on Wednesday, reaching a new intraday high.
Delivery Service
Starbucks, the world's largest coffee-house chain, announced the split as part of its annual meeting in Seattle Wednesday. It also said it would test a new delivery service in Seattle and New York's Empire State Building, letting customers get their lattes sent directly to their offices.
This is the company's sixth 2-for-1 stock split since its initial public offering in 1992. The last one occurred in October 2005. While splits have become more rare, Starbucks isn't the only major U.S. company that still relies on them. Apple Inc. and Visa Inc. have both announced splits in the past year.
Because of the change, Starbucks' previously announced second-quarter earnings projection will equate to 32 cents a share, or 32 cents to 33 cents when excluding some items. For the year, profit will be $1.77 to $1.79 a share, or $1.55 to $1.57 when adjusted.
Before it's here, it's on the Bloomberg Terminal.
LEARN MORE