Snowden Says 'Best Resolution' Would Be to Return Home to U.S.
Patrick Donahue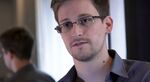 Edward Snowden, the former security contractor charged with theft and espionage for leaking a trove of top-secret documents, said the "best resolution" to his legal turmoil would be to return to the U.S. and make his case.
Speaking on a live video link from Russia to an audience at the CeBIT technology conference in Hanover, Germany, Snowden said a return to his homeland is "not possible procedurally." He said he wouldn't be able to receive a fair trial.
"It's the best resolution for the federal government and the public broadly," said Snowden, who has spent the last 21 months in Moscow as a fugitive after the Russian government gave him temporary asylum. "We don't want to be the kind of government where people who reveal serious wrongdoing have to seek shelter in other countries to seek any kind of justice."
Officials in President Barack Obama's administration have said there are no discussions of clemency or conditions for the surrender of Snowden, who in 2013 revealed the extent of mass surveillance by the National Security Agency. Snowden said there's "no dictation; there's no my terms and their terms" on seeking a way back to the U.S.
Pressed on whether his lawyers are in talks, Snowden said he "can't talk about that kind of stuff at a public conference." Still, he expressed openness to an arrangement.
"Obviously, any resolution that I think would be mutually beneficial is something that I would be open to," Snowden said. "I'd volunteer to go to prison to get this resolved."
Petraeus, Mistress
Snowden also criticized a plea agreement made by former CIA Director David Petraeus this month as unfair. Petraeus, 62, a retired Army General, admitted March 3 that he provided notebooks containing classified information to his mistress.
Petraeus will serve two years of probation on a misdemeanor charge, according to the terms of the deal.
"He provided things of a higher classification to his lover so that she could write a more flattering biography," said Snowden, who could face decades of prison time under the charges against him. "He's getting, of course, a deal that includes no prison time, a very nominal fine."
Snowden's disclosures led to a backlash that prompted the Obama administration to take new measures, such as limiting U.S. intelligence agencies' use of information on foreigners. Those steps have been criticized as insufficient by privacy advocates and some U.S. lawmakers.
Before it's here, it's on the Bloomberg Terminal.
LEARN MORE