business
Not Even Chinese State TV Can Make People Buy Local Cars
When it comes to wheels, Chinese are stubbornly loyal to the foreigners
By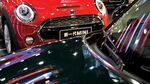 What do you have to do to sell some cars around here? 
China might well ask.
Every March 15, state-owned broadcaster China Central Television celebrates World Consumer Rights Day by naming and shaming companies it says take advantage of innocent locals. The named and shamed are usually quick to respond. Last year, Nikon stopped selling one model of its digital cameras in China and offered free repairs after the CCTV show, 315 Gala, reported defects. The year before, Tim Cook issued an apology after the show targeted Apple. 
Foreign automakers are leading the contrition this year. Jaguar Land Rover, the British automaker owned by India's Tata Motors, has already apologized after CCTV reported Sunday that it had been slow to fix problems with its Evoque SUVs. The network also alleged that dealers supporting such foreign brands as Mercedes, Nissan, and Volkswagen have exaggerated the seriousness of recommended repairs and then charged too much for them.
That prompted the joint venture of Nissan and local partner Dongfeng Motor to tell Bloomberg it had formed working groups to investigate. Daimler said in a statement it is investigating the claims against Mercedes. Volkswagen apologized and said it would launch an investigation, too—only to find itself on the hot seat again this week.
But even the most powerful TV network in China has its limits. The shame show's targeting of foreign automakers probably won't be enough to help the local brands regain popularity with consumers. People have shown they're happy to embrace local tech brands such as Xiaomi and Lenovo. When it comes to cars, though, Chinese are stubbornly loyal to the foreigners.
China's auto market is divided into three segments: purely foreign brands like Tesla that rely on imports; joint ventures between foreigners such as General Motors, Toyota, and Hyundai and their Chinese partners that produce locally; and purely local brands such as Geely and BYD. According to Bloomberg Intelligence data, Chinese automakers had 41 percent of the market at the start of 2010. By the end of last year, their share had dwindled to 28 percent.
Ironically, a government attempt to crack down on the foreigners last year may have contributed to that decline by making overseas brands more affordable. Jaguar Land Rover, BMW, and Mercedes were among the foreign brands that announced price cuts following investigations of alleged price-fixing by China's antimonopoly regulators. (Dealers for some of the carmakers paid fines, but a group of Japanese suppliers of auto parts suffered the biggest hit, fined $200 million—the biggest fine ever imposed by Chinese antitrust regulators, according to the China Daily.) 
China supports its auto industry in more substantial ways—taxing imports, for example. That's one reason foreign automakers form partnerships with Chinese companies, producing cars through their local joint ventures, although they aren't allowed majority stakes in these ventures. Last year, after a government official floated the idea of easing that rule, the Chinese Association of Automobile Manufacturers warned that would "wipe out Chinese brands."
To many Chinese, the foreign brands are just better.
"Some of the domestic automakers are not up to global competitive standards," said Steve Man, an analyst in Hong Kong with Bloomberg Intelligence. In the crowded Chinese market, even those that do produce better cars don't have the brand awareness they should. The locals "need stronger marketing and better reputations," Man says. "That takes time."
Those Chinese who do buy local on their first car purchase aren't likely to stick with the brand when they're a little older and wealthier. A Chinese brand is "something they view as a starter car," said James Roy, an associate principal at China Market Research Group in Shanghai. The "vast majority" aspire to graduate to a foreign-branded car with a better reputation. The CCTV show won't change that, Roy said.
"There's a growing understanding that not all these claims are to be taken at face value," he said. "Between a domestic brand and joint venture brand, the joint venture will win every time."
Before it's here, it's on the Bloomberg Terminal.
LEARN MORE