Matt Weiner's Seven Favorite Things
The Mad Men creator talks architecture, wearable tech, and the food that might kill him
By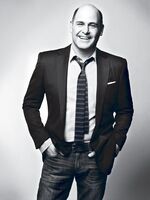 "You can probably tell from the show that I'm a materialist," says Matt Weiner, 49, whose series, Mad Men, begins its final seven-episode run on AMC on April 5. Weiner, who lives in Los Angeles with his wife, Linda Brettler, and their four sons, says he's looking forward to attending to his many extracurricular passions in his newly freed up schedule. "It's a hard-wired personality thing," he says. "I like objects and appreciate the artisanship involved." Here are some of his favorites.

The Carlyle New York
"I love going there for vacation or business. It's just a very elegant place with a long history, close to the park and kind of neighborhoody. It makes me feel like I'm in the movie version of New York."

Mack Weldon Socks
"You cannot walk barefoot in my office—the carpeting has never been changed, and I think it's from 1958. I got a bunch of Mack Weldon socks as a gift from Janie Bryant, our costume designer. I like a slightly furrier sock, and I love a happy, red-striped sock."

Kaweco Pens
"I keep a pen in my pocket at all times. It's an aluminum Kaweco AL Sport fountain pen. It's small and indestructible and never leaks. I don't carry a business card, so I have to have a pen."

Nike+ Fuelband SE
"You definitely know if you're walking enough—some days mine thinks it's sitting on a dresser. But the men's room is so far from my office that it's actually made a difference."

Kona Mountain Coffee
"I've never told someone to get me a cup of coffee, because I'm so particular. I've had it sent to me from Kona Mountain Coffee for eight years. What I put in it is the embarrassing thing: Coffee-Mate, because it doesn't make it cold, and Sweet'N Low. I drink three 16-ounce cups a day."

The Olivetti Showroom
"My wife is an architect, and we have more photographs of stair treads than I do of my children. The Olivetti showroom in Venice is just exquisite. It's interlocking pieces of wood in this economy of space with great materials—it's modern but wooden."

Hot Dogs
"I have very pedestrian food tastes. My favorite food is hot dogs, and I have to fight not to eat them at every meal, or I'd be dead."
Before it's here, it's on the Bloomberg Terminal.
LEARN MORE