Travel
Live the Ultimate Royal Fantasy (With Falcons) at Ashford Castle
Fly fishing, archery, and fox hunts—plus ultra-luxe renovations—make this 13th century castle hotel a bastion of timeless Irish hospitality
By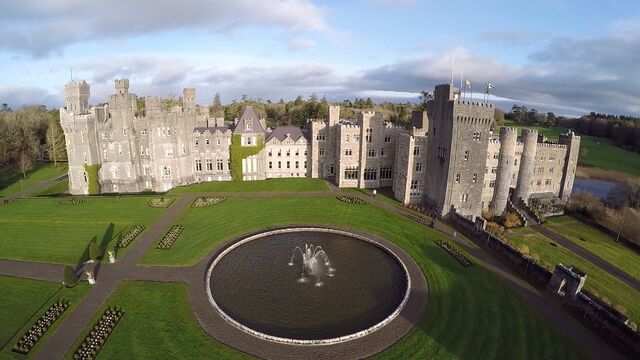 It's raining. Again.
The Irish weather is hormonal. How am I going to fly my falcons in this?

In December, I journeyed more than 3,000 miles across the Atlantic to Ashford Castle to try my hand at falconry and check out more than $26 million in renovations to an are-you-serious-it's-an-actual­-castle hotel. But winter in County Mayo, on Ireland's west coast, is not a place for outdoorsmen.
On my second day stuck inside, I'm starting to feel a part of the furniture.
I'm an antique settee stationed comfortably in a corner, observing the day tilt by, errant sunlight angling through a stained-glass window, sparking the crystal of a Waterford chandelier. Thick carpeting absorbs the bustle of a five-star hotel, a muted day-in-the-aristocratic life.
Mind you, this isn't a bad thing.
Ashford Castle, it turns out, is an easy place to settle in. Time here takes on its own quality. Just ask the staff, many of whom, like their parents and grandparents before them, have kept on for decades—a rarity in the hospitality industry. Downton Abbey comparisons wouldn't be out of line.


Family Ties
"In the '50s, when I was a youngster, I used to come here on a push-bike, and it was fascinating—magical, really," says head groundskeeper Pat Kavanagh during a video interview (which is, sadly, on the cutting room floor). The wool-capped charmer and gentleman sheep farmer joined the staff 30 years ago.
Eighteen-year-old Mark Gibbons works as a waiter and is third-generation Ashford, tracing a line back to his grandfather, who served as a gamekeeper on the estate in the early 1900s. His father, Martin Gibbons, now maître d', has been in the castle practically all his life.
Catherine Kenny, the rooms division manager, tells a great story about coming for an interview and then learning that her grandparents were from Neale, a small village just five miles away. Eighty years ago, they could only look over the walls into Ashford Castle and dream. "They'd be very proud, I'm sure, if they were here today." She's now in her 17th year at Ashford.
There's a true pride in place here that doesn't seem like a dog-and-pony show put on for a visiting journalist.
Bernie O'Brien, an employee for over 20 years (and who fiercely guards her housekeeping territory in the historic wing from her sister), puts it best: "Something keeps drawing you back. I love the place, I really do. I would never leave—unless they throw me out."
800 Years in the Making
As with many illustrious houses, Ashford wasn't so much planned as metastasized.
The Anglo-Norman de Burgo family built a single, fortified tower in 1228 to guard against the O'Connors of Connaught. Over the course of 787 years that tower evolved into an 82-room hotel, wing by wing—French chateau style here, Victorian there—fitting together today like stone Legos. Ceilings are of different heights. Stairways confuse. Hallways wind. Each room offers its own layout and design. 
As I overheard an employee tell a new guest, "You're not at home until you get lost."
Guinness Time
From 1852 to 1939, the Guinness family (yes, of the brew) used the castle as a summer residence, fishing for brown trout and salmon in the Cong River and in icy Lough Corrib, hunting pheasant and deer over its then-26,000 acres of farmland and wood. Stone battlements outside were less for protection than as pleasant follies, setting off the fountain and manicured gardens. A royal visit by George V in 1906, then Prince of Wales, occasioned construction of a wood-paneled entrance hall, whisky bar, and grand dining room.

Another dynastic family, the Tollmans of South Africa, purchased Ashford in 2013 under their Red Carnation Hotels brand. They have built a cinema and a peat-fire-warmed billiards room; a pool is on the way. The hotel has always been one of Ireland's best, but in the years following the Irish downturn, it had, well, been showing its years. 
Cue a meticulous top-to-bottom rejuvenation that, according to hotel reps, has already exceeded the $26 million purchase price of the property. It closed at the start of this year in order to finish the job.
When Ashford reopens to guests on March 27, it will be in the running for best luxury hotel in Europe. Service is a huge part of that—the main reason I would come back. There's a jovial familiarity on top of professionalism, a right cheekiness that is as much an expression of Ireland as of the castle. It's what's kept Carroll Spinney, the actor who plays Big Bird and Oscar the Grouch on Sesame Street, coming back for Christmas the last 27 years. Over a snack in the lobby, he describes the people as "magic."

A New (Gold) Leaf
The luxury finishings help, too. Bold, rich fabrics cover the stone walls. There are mahogany, marble, and Victorian antiques aplenty, as well as new Murano chandeliers to join the historic Waterford ones. A staff member confides that the vase by the main stairwell cost tens of thousands of euros alone—and there are two. Grandeur here is in the details. And in all the modern necessities: fast Wi-Fi, Bluetooth speakers, flatscreen TVs, heated bathroom floors, soaking tubs, Voya seaweed soaps, and crystal decanters with free sherry.  

"It's just brought the castle to a whole new level of service," says Kenny. When she wants to do something special for a guest, she'll match a room's décor to their favorite color.
The renovated George V dining room is the heart of the castle, with epic breakfast buffets and evening tasting menus. Ladies in jewels and men in jackets (required) dine nightly on woodcock and native oysters. A harpist might play, when she's not belting out piano standards in the drawing room. It's evening entertainment that evokes an earlier time.

Lo, a Fox Hunt
To this American tourist, castles are an easy sell. They tap into a lingering childlike awe, stoked by storybooks, Robin Hood movies, King Arthur's court, and all that. My liking Ashford was pretty much guaranteed. It's the ultimate fantasy getaway.
A fox hunt felt unnecessary. It was most certainly unexpected.

I had planned a day of archery and clay pigeon shooting—proper aristocratic activities available on the grounds and especially welcome when it's too wet to golf or fish—or maybe a horsey gallop through the woods, if the weather held. Instead, I awoke to the North Galway Hunt Club staging its annual hullabaloo outside my window. Whatever your feelings toward fox hunting, the pageantry is undeniable: the on-point outfits, the howling of the hounds, the clomping and clambering of the steeds as they vault over fallen trees and gullies, the pure equestrian drama of it all, fueled by minced pies and mulled wine (and hip flasks of good Irish whiskey).

"It's one of the last remaining, actual hunts that still you can experience anywhere in the world," explains Niall Rochford, the hotel's general manager. "During the Guinness time, there was the Ashford Hunt and that went on for many, many years, right up till the 1940s."
Even as an unofficial hotel event, the hunt drew into sharp focus the special role the castle plays in preserving Irish history. Traditions thrive here. (For the record, no foxes were harmed.)
Fish Tales
Ashford came to fame in 1939 among fishing enthusiasts, the area being one of Ireland's premier brown trout and salmon fisheries, which still holds true. Frank Costello has been ghillie (Gaelic for fishing guide) for the past 22 years. He has lived on the Ashford estate all his life, like his father before him. His grandfather came to the area in 1917.
"To me, the lake is the best thing. It's 64 square miles of water, so there are plenty of places to go," says the Orvis-endorsed guide. "The best fish I've ever caught is the brown trout—about 24 1/2 pounds, which is the second-biggest-ever in Ireland—but it was out of season, so I had to put it back."

In warmer (and dryer) months, cycling and kayaking are big on the property, as are simple walks through the 350 acres of woodland and formal gardens. A vertiginous climb to the top of the Guinness Tower lookout is popular, too. Handcrafted wooden skiffs or repurposed lifeboats from the Queen Mary II ply Lough Corrib and its 365 islands, including one, Inchagoill, that has an old stone church that Saint Patrick built while taking refuge from pagans. It's the second largest lake in Ireland, fed by the Cong River that flows under the castle's picturesque stone bridge out front.

A golf course greets guests just beyond the entrance gates, nine holes (par 35) of rolling hills, designed by Eddie Hackett. The Connemara Mountains stand proud in the distance. In summer a restaurant opens in a thatched-roof cottage, and I was told that an annex hotel, The Lodge, is full of weddings.
Couples may come to relax, explore, or simply while afternoons away with a silver service of high tea. Pierce Brosnan came to get married in 2001.
Me? I came for the falconry.
A Hawking We Will Go
I mean, look at this photo.  

That's Beckett. He's a year-and-a-half old Harris Hawk who likes eating baby chicken legs and bits of beef, as well as careening through branches after sparrows. He's my hunting partner for the day.

Falconry may be most popularly associated with the Middle East, but it has existed in Ireland as far back as the seventh century. Ashord's falconry school, Ireland's oldest, is the most enticing feather in the castle's cap—even if "falconry" turns out to be a bit of a misnomer.
Yes, they have peregrines here—three, in fact. If you're lucky (and have a strong stomach), you may get to see them being fed dead crows  in a bloody, gruesome affair too hot for TV. But they're not for guest use. As solitary hunters, falcons barely tolerate their trainers and tend to soar away on updrafts, often performing out of sight, which makes a not-so-thrilling outing if you're paying to experience the noble sport by the hour.
"Harris Hawks have really revolutionized falconry," explains James Knight, co-owner of the school, which he founded with his wife Debbie 15 years ago. Their feather and wing morphology, he points out, makes them much more skillful at braking and maneuvering through trees and landing on the thick leather falconry glove.
Pack Mentality
Plus, they're the world's only social birds of prey: They're smart (training takes only two weeks) and won't bite your face (phew). I easily became Beckett's motivation to hunt (as the alpha in his pack).
"We're not a zoo," says Knight. "The whole point is that we have working birds, to share our passion of falconry with guests."
On an extended "hawk walk," you learn a lot about the birds—their 360-degree vision, their large feet (used for snagging mice and jackrabbits), their steadicam necks, and how they store their food in a pouch of sorts before digesting. You also learn how to keep them controlled ("under your thumb," in falconry's original phrase) by using the leather leads known as jesses.
Unexpectedly, there's also math involved.

'Fed Up'
Falconry works according to the conservation of energy: namely, the birds will do the bare minimum of what they need to do to get food. (It's a familiar calculation I employ when I visit parents over the holidays.) 
"They need to be hungry enough to want to work," says Knight. "They can't be really, really fat. Otherwise, they'd end up like us, sat in front of the telly, doing absolutely nothing."
Trainers keep a close watch on a bird's weight, charting it daily to know for how long they can be flown—or rather how many meat treats to hand off—before it naturally chills out to rest and digest. If they get too full, too "fed up," they won't cooperate. (Yep, that term comes from falconry, too, as does "hoodwinked," referring to falcons who have been tricked by their too-cute little leather hoods, which calm them down by making them think it's nighttime.)
Fair Trade
News to me: You can't train a bird of prey to retrieve a catch, as you can a hunting dog.
"You know, why should they?" explains Laura Gallagher, a falconer with the school who took me on my walk. "It's their catch. It's their kill. Instead, you can say to the bird, 'If you give me a hare or that big pheasant that's kicking and screaming, I'll give you something easier to eat.' It costs too much energy plucking and killing and tearing and shredding."

It's a swift and visceral calculation, lizard-brain math for some chow, now. To Beckett, I was basically a vending machine for cheap and easy calories.
After the "trade," a falconer would then take the bird's catch to bring home, to his own family. "That's traditionally what falconry was used for," says Gallagher. "It was only in the 16th century that it became a sport because that's exactly the same time the gun was invented. You didn't need to share your dinner with your gun, so it became a sport then for the kings and queens."

So today, I'm playing king. Or at least, Beastmaster.
Flying Beckett was thrilling—seeing him glide toward me, feeling his weight on my arm, his sharp yellow eyes staring into mine. You'd think the raw power of it all would get old quickly, but you'd be mistaken.
I even had a chance to try out Dingle, the school's Eurasian Eagle Owl. Having a bird with a five-foot wingspan and enough gripping strength in its talons to crush an arm bone makes you feel downright regal.
As luck would have it, I had a castle to call home that night. 
Ashford Castle is in County Mayo, Ireland. Seasonal prices range from $244 to $537 a night (breakfast included).

Justin Ocean is the deputy editor of Bloomberg Pursuits, and he may or may not have tried to smuggle a hawk back home. Follow him on Twitter and Instagram, or e-mail any travel tips or questions to jocean1@bloomberg.net
Before it's here, it's on the Bloomberg Terminal.
LEARN MORE