Iran's Top Negotiator Says Nuclear Accord Unlikely This Week
Jonathan Tirone and Kambiz Foroohar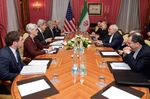 Iranian Foreign Minister Mohammad Javad Zarif said talks over his country's nuclear program are unlikely to reach an agreement this week, even as the two sides said progress had been made.
This week's talks with U.S. Secretary of State John Kerry on the shores of Lake Geneva are set to run to March 20, after which Iranian diplomats will break for the Nowruz Persian new year holiday. Kerry is available to resume negotiations from March 25. The envoys have until the end of the month to reach a framework agreement.
Zarif said he doubted "we can get there in the next two days" in comments to reporters in Lausanne, Switzerland. "Anytime solutions are found and we are reaching an agreement then perhaps is the time for the foreign ministers."
Top diplomats from China, France, Germany and Russia are expected to join Zarif and Kerry if the lead negotiators near an accord. Talks have twice been extended as officials wrangled over Iran's nuclear capacity and the pace of sanctions relief under any deal. Even if a pact is reached by March 31, negotiators have until June 30 to complete technical annexes defining the agreement's scope.
Technical disputes narrowed on Tuesday after U.S. Secretary of Energy Ernest Moniz and Ali Akbar Salehi, head of Iran's Atomic Energy Organization, joined the discussions.
Congress Letter
This week's round of talks is the first since a March 9 open letter signed by 47 Republican Senators warned Iranian leaders that a deal may not outlast Barack Obama's presidency. Iran raised concerns over the letter in Lausanne, according to one U.S. official, who declined to give details of what was said. Kerry called the letter "unconstitutional" and ill-advised.
Israeli Prime Minister Benjamin Netanyahu, a leading critic of the talks, addressed U.S. Congress March 3 to warn against any agreement that would leave Iran with significant nuclear capabilities. Netanyahu's Likud party won Tuesday's national election in Israel and is set to form the next government.
While more than two-thirds of Americans support nuclear negotiations with Iran, according to a CNN poll of 1,009 people published on Tuesday, talks with the long-standing U.S. rival have caused concern in Israel and among Arab allies.
Iran denies their charges that its program aims to develop nuclear weapons, saying the nation's atomic ambitions are entirely peaceful.
Before it's here, it's on the Bloomberg Terminal.
LEARN MORE