HSBC's Flint Odds-On to Be Next U.K. Bank Chief to Exit in 2015
Stephen Morris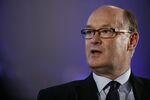 With Standard Chartered Plc Chief Executive Officer Peter Sands on his way out, the money is on HSBC Holdings Plc Chairman Douglas Flint to resign.
Embroiled in a scandal linked to tax evasion at HSBC's private bank, Flint, 59, replaced Sands as bookmakers' favorite among U.K. bank leaders seen departing this year. Ladbrokes Plc and Paddy Power Plc are offering odds of 1-to-2 and 7-to-4, respectively, for the chairman to step down. HSBC CEO Stuart Gulliver, 56, ranks second at Ladbrokes.
HSBC's top management has come under fire from U.K. lawmakers after fresh details emerged last month showing how the bank's Swiss unit helped clients evade taxes. That followed billions of dollars in fines for helping Latin American drug cartels launder money and for manipulating currency markets.
"Both Flint and Gulliver have built up political capital and are well connected, so they would not be easily dislodged despite what happened," said Colin McLean, founder of SVM Asset Management Ltd. in Edinburgh, who helps oversee more than $800 million including HSBC shares. "Shareholders think the bank can resolve their disputes with regulators by pulling out of dubious businesses and private accounts around the world."
Heidi Ashley, a spokeswoman at HSBC in London, declined to comment. Flint and Gulliver were unavailable for comment.
Sands Departure
HSBC shares have decreased 5.7 percent this year, after dropping about 8 percent in 2014. The Bloomberg Europe Banks and Financial Services Index is up 10 percent this year.
Standard Chartered shares have pared some losses after the bank announced Sands's departure. The CEO, who will be replaced by Bill Winters, came under fire after failing to reverse two years of declining earnings and a slump in shares that eroded 29 percent of the bank's market value in 2014.
At HSBC, Flint and Gulliver faced lawmaker questions after the International Consortium of Investigative Journalists released details from client data stolen in 2008 showing how the lender set up Swiss bank accounts for drug cartels, arms dealers and others, and advised clients on how to evade tax. Both said they were unaware of the practices at the time.
Politicians' anger has largely focused on Flint who was made finance director in 1995 and moved to become chairman in 2010, covering the entire period of alleged wrongdoing. Gulliver was appointed group CEO in 2011.
"The tone at the top is set by the chairman and the board," Robert Jenkins, a former member of the Bank of England Financial Policy Committee, wrote in the Financial Times earlier this month. "For the good of his own reputation as well as that of his institution and British banking, Mr Flint should go."
Following talks with its largest shareholders, the bank signaled in 2010 that, unlike Flint, its next chairman would be non-executive, according to a statement at the time.
RBS, Barclays
HSBC, which operates in 74 countries, has also faced criticism it's too big to manage. The bank was fined $1.9 billion in 2012 for helping Latin American drug cartels launder money. Settlements and provisions for currency rigging investigations totaled $1.2 billion last year.
Ladbrokes considers Flint's departure as almost inevitable this year, listing odds-on bets, meaning gamblers have to put down a greater stake than the potential return. The London-based bookmaker is offering one pound ($1.5) of winnings for every two pounds successfully wagered, compared with five pounds for a one-pound bet at the start of the year. Paddy Power also cut Flint's odds to 7-to-4 from 4-to-1 this month.
By contrast, Royal Bank of Scotland Group Plc CEO Ross McEwan, 57, has seen his odds lengthened by Ladbrokes to 10-to-1 from 3-to-1 in January, after pledging to shrink the investment bank and focus on the U.K. consumer market. Barclays Plc CEO Antony Jenkins's chances of survival have also increased to 5-to-1 from 3-to-1, with shares up 3.3 percent this year. Paddy Power has also increased the payout should either CEO leave.
'Some Discontent'
"There's some discontent in the market surrounding management and HSBC is very much at a nadir at the moment," said Chris White, who helps oversee about 3.2 billion pounds, including HSBC shares, at Premier Asset Management Plc in Guildford, England. Still, "the market has confidence in Gulliver and his ability to turn the bank around."
Gulliver has come under additional scrutiny for his personal tax arrangements. Until 2003, his bonuses were paid into his own Swiss bank account, linked to a company registered in Panama, according to the Guardian newspaper. The CEO said he derived no tax benefit from the structure and it was to ensure his pay remained private from colleagues.
U.K. lawmakers' focus on his Swiss account have put Gulliver among the U.K. business leaders seen most likely departing. He's listed at evens at Ladbrokes, meaning gamblers will earn the same amount as their stake if they win. Paddy Power is less optimistic, offering 11-to-8 for the criteria.
"HSBC has got a lot of stuff wrong, but there's no need for them to be ditched at this stage," SVM Asset Management's McLean said. "There's always less risk in changing a chairman than a CEO but shareholders don't think it's reached that stage yet."
Before it's here, it's on the Bloomberg Terminal.
LEARN MORE