There Are a Lot More Jobless South Koreans Than You Think
New data shows scale of jobless problem
by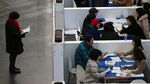 Joblessness in South Korea is apparently close to rock bottom. Even with a blip in February as students entered the workforce after university, it's still almost half the level of other OECD nations.

But the official unemployment rate isn't telling the whole story of the Korean labor market: once you include people who've given up looking for work or are stuck in part-time positions, there's a lot more pain than previously recognized.
While data Wednesday showed the jobless rate in South Korea rose to 3.9 percent last month, a new labor underutilization indicator came in more than three times higher, at 12.5 percent. The gap in the U.S. is not nearly so wide, with unemployment at 5.5 percent and a similar gauge of underutilization at 11 percent.

"The high labor underutilization rate helps explain why -- despite the low official unemployment rate -- people feel that conditions in the job market just aren't good," said Kim Doo Un, a Seoul-based economist for Hana Daetoo Securities Co.
A lack of full-time jobs comes as household debt rose to a record high of 1,089 trillion won ($965 billion) in 2014. This dents optimism, curbs consumer spending and in turn undermines domestic demand, potentially slowing inflation.

The Bank of Korea lowered its key interest rate to an unprecedented 1.75 percent last week, citing weak domestic demand and low inflation. At least one BOK board member noted the "significant amount of slack" in the job market in February.
South Korea's statistics office began releasing the underutilization indicator last year after criticism that the official unemployment rate didn't offer an accurate picture of job market.
The largest corporate lobby group -- the Federation of Korean Industries -- isn't adding any cheer. It said on Monday that the 30 biggest companies planned to cut new hiring by 6.3 percent in 2015 from a year ago.
"With economic growth not what it used to be, and with less hiring, younger people are taking on more part-time jobs and waiting longer to get a proper job," said Hwang Soo Kyeong, a researcher for Korea Development Institute in Sejong. 
Before it's here, it's on the Bloomberg Terminal.
LEARN MORE