Here's a One-Chart Preview of Today's Fed Decision
This is what economists are expecting
by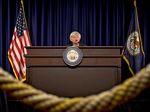 It's Fed day today. Matthew Boesler has a thorough preview of what to watch for and what economists are expecting from the announcement and press conference this afternoon.
By far the biggest question is whether the Fed will drop the word "patient" from its statement. If it does drop the word, it creates the possibility of a June rate hike, and it will mark the first time since the financial crisis that the Fed is offering no specific forward guidance as to when rate hikes will come.
About 90 percent of economists surveyed by Bloomberg expect the Federal Reserve to drop the word "patience" in today's announcement. That being said, there's some disagreement over whether patient will be replaced by another phrase or by nothing.

For a full Fed preview, read here.
Before it's here, it's on the Bloomberg Terminal.
LEARN MORE