Mutiny on the Bounty Descendants Will Lose Control Over Bankrupt Island
Edward Johnson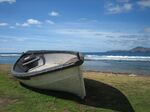 The descendants of Fletcher Christian and the Bounty mutineers are to lose control of their bankrupt South Pacific island home, as Australia prepares to strip the remote territory of self government.
Norfolk Island Chief Minister Lisle Snell said he was informed Wednesday of Prime Minister Tony Abbott's decision to shut down the local nine-person parliament and make the population of about 1,800 people pay federal taxes.
"Norfolk Islanders will lose their identity, they will lose their way of life," Snell told the Australian Broadcasting Corp. Thursday. Stripping the islanders of their autonomy will have a "detrimental effect on their culture and traditions."
The tiny outcrop, which was settled by ancestors of the mutineers in 1856, is on the brink of financial collapse and relies on emergency assistance from the Australian government 1,700 kilometers (1,000 miles) away in Canberra. The island, measuring 8 kilometers long and 5 kilometers wide, has seen no significant investment in infrastructure since the 1970s, with deteriorating roads and an electricity network on the brink of collapse, a parliamentary committee reported last year.
"Infrastructure on Norfolk Island is run down, the health system not up to standard and many laws are out of date," Jamie Briggs, the assistant minister for infrastructure and regional development, said in a statement Thursday. "As Australian citizens, residents on Norfolk Island deserve equal access to government services and entitlements as those residing on the mainland."
Penal Settlement
The sub-tropical island, a former penal settlement famed for its towering pine trees, is steeped in the history of the British Royal Navy mutineers, whose story was immortalized in the 1935 movie starring Clark Gable as Christian.
The sailors set Captain William Bligh adrift in 1789 after his expedition to bring breadfruit back from Tahiti floundered. A handful of the mutineers and their Tahitian wives first found refuge on Pitcairn Island. All but one died, including Christian, within a decade, mostly through infighting or clashes with the Tahitian men who had accompanied them. Their women and children survived and the community grew.
Sea Crossing
When Pitcairn could no longer sustain them, 193 men, women and children in 1856 made the five-week sea crossing to Norfolk Island. Some islanders still speak a blend of 18th-century English and Tahitian. The telephone directory is so crammed with mutineer names such as Christian, Quintal and Adams that people are also listed by nickname, including Lettuce Leaf, Quack and Moose.
The island's population is now split in roughly equal numbers between Pitcairn descendants and Australian and New Zealand immigrants.
The local government has an annual budget of about A$30 million ($23 million), which it raises through a goods and services tax and from enterprises such as telecommunications, the airport and the postal service, according to the parliamentary committee's report. The island faces a deficit of between A$7.4 million and A$7.8 million a year for the next three years.
Briggs said the government will seek to amend the Norfolk Island Act to replace the Legislative Assembly with a regional council. Residents will have to pay income and business taxes and in return be entitled to welfare, he said.
"Asking a community of around 1,800 people to deliver federal functions such as immigration, quarantine and customs, social services and taxation and state and local government services, is neither appropriate nor sustainable," he said.
Before it's here, it's on the Bloomberg Terminal.
LEARN MORE