Donald Trump Announces Exploratory Committee
After several flirtations, he takes a concrete step toward a presidential campaign.
By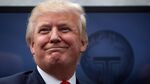 Donald Trump, the real estate mogul and TV personality who has often flirted with running for public office, said he would form a committee to explore a presidential candidacy Wednesday.
The announcement, first reported by the New Hampshire Union Leader, is the most concrete evidence  that Trump is seriously considering a bid for 2016.  He also has hired staff in the key nominating states of Iowa, South Carolina, and New Hampshire.
"Americans deserve better than what they get from their politicians–who are all talk and no action," Trump said in a press release. The conservative businessman, who has been highly critical of President Barack Obama, touted his experience in real estate and said that the U.S. needs to rebuild infrastructure, control borders, create jobs, and strengthen national defense. "I am the only one who can make America truly great again!"
Trump has also canceled his contract with NBC, where his show The Apprentice aired, the Union Leader reported. He is planning to head to New Hampshire, site of the nation's first nominating primary, on Thursday.
In February, at his appearance at the Conservative Political Action Conference, Trump insisted he was seriously considering a run. He also slammed potential rival Jeb Bush for his stance on Common Core education standards and immigration, saying, "I don't see him winning."