Airbus Said to Seek $700 Million for Skymark Canceled Orders
Kiyotaka Matsuda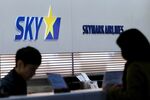 Airbus Group NV has filed a demand for $700 million in compensation from bankrupt Japanese carrier Skymark Airlines Inc. for canceling an order for A380 superjumbo planes, according to people familiar with the matter.
The payment is part of more than 200 billion yen ($1.7 billion) in liabilities Skymark is working through in Tokyo District Court, the people said. The airline intends to complete talks with its creditors by mid-April, said the people, who asked not to be named because the talks are private.
Skymark's debt has more than doubled since it sought bankruptcy protection Jan. 28 with 71 billion yen in liabilities after a weaker yen pushed up costs and a decision to purchase six Airbus A380 superjumbos flopped last year. Integral Corp., a private equity investor, is assisting Skymark's turnaround, and the airline is seeking other partners.
Airbus filed the request to Tokyo District Court yesterday, Takahiro Nosaka, spokesman for the planemaker's Japan unit, said by phone. He declined to disclose the amount.
ANA Holdings Inc., Orix Corp. and H.I.S. Co. have all said they intend to support Skymark in some manner. AirAsia Bhd. has also applied to support the Japanese carrier, according to the transport ministry. Hainan Airlines Co. has also offered support, one of the people familiar with the matter said.
Skymark also canceled lease contracts for 10 A330 aircraft, the people said. Masakazu Arimori, the carrier's president, had said he was looking to transfer the leases to other airlines.
Arimori has cut flights and pared expenses to help lift margins at Skymark as it prepares to present a restructuring plan by the end of May.
Skymark expects to post an operating income by July as profitability has improved after it stopped using large planes and pared costs, Arimori said.
The carrier still holds 36 take off and landing slots at Tokyo's Haneda airport, an asset worth about $612 million in annual revenue, according to an estimate by SMBC Nikko Securities.
Before it's here, it's on the Bloomberg Terminal.
LEARN MORE