U.S. Air Force Veteran Charged With Aiding Islamic State
Del Quentin Wilber and Andrew Harris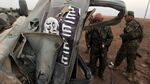 A U.S. Air Force veteran was accused by the the government of turning his back on his country and trying to join a terror group that's taken control of a swath of Iraq and Syria and publicly executes its captives.
The U.S. is part of a coalition battling Islamic State, which President Barack Obama has vowed to destroy,
Tairod Nathan Webster Pugh, 47, was charged by a Brooklyn, New York, grand jury Monday with attempting to provide material support to Islamic State and obstruction of justice. He faces as long as 35 years in prison if convicted.
"Born and raised in the United States, Pugh allegedly turned his back on his country and attempted to travel to Syria in order to join a terrorist organization," U.S. Attorney Loretta Lynch in Brooklyn said Tuesday in a statement.
Pugh will plead not guilty, his lawyer, Michael Schneider of the Federal Defenders' office in Brooklyn, said in an e-mailed comment. Schneider declined to comment further.
The charges were announced less than a month after two Brooklyn roommates were charged by the U.S. with attempting to go to Syria and join Islamic State. They pleaded not guilty to charges of conspiring to support the terror group.
Pugh served as an Air Force avionics instrument specialist, according to the U.S., receiving training in the installation and maintenance of aircraft engines, as well as weapon and navigations systems.
Syria Bound
After leaving the Air Force, he held related jobs in the U.S. and in the Middle East where, after being fired from his last job, he traveled from Egypt to Turkey in an attempt to cross into Syria and join Islamic State, according to prosecutors.
Turkish authorities detained Pugh and returned him to Egypt. He was then deported to the U.S., American authorities said. Pugh was arrested on Jan. 16 in Asbury Park, New Jersey.
Indicted Monday, Pugh is scheduled to be arraigned on Wednesday before U.S. District Judge Nicholas Garaufis.
Lynch is Obama's nominee to succeed U.S. Attorney General Eric Holder. Her appointment remains subject to Senate approval.
The case is U.S. v. Pugh, 15-cr-116, U.S. District Court, Eastern District of New York (Brooklyn).
Before it's here, it's on the Bloomberg Terminal.
LEARN MORE