Auctions
This Penny Could Be Worth $2 Million
One of only seven Birch Cents, the first pennies ever minted, is up for auction on March 26
By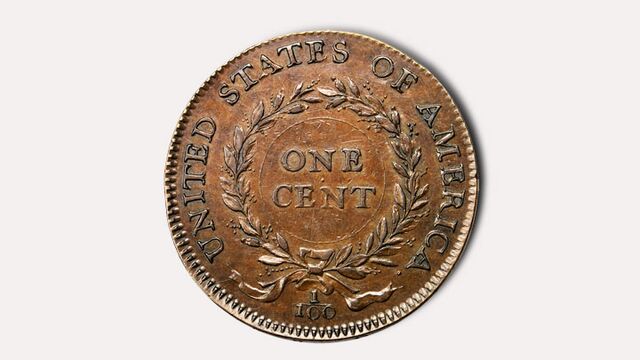 A U.S. penny forged in 1792 is up for auction at Stacks Bowers in Baltimore, with an estimated value of $2 million. If the March 26 auction meets expectations, the coin will have realized a 200 million percent increase in value in 223 years.
Lest you start hoarding pennies in hopes that your great-great-great-grandchildren will net similar gains, keep in mind that this is not your average piece of currency. Named the "Birch Cent" after its designer, the coin is one of the first pieces of U.S. currency ever minted, and it's one of just seven of this particular design that remain.
On one side of the copper coin, a young woman with curly hair (blown back as if in Revolutionary wind-tunnel), sits in profile, surrounded by the words "Liberty Parent of Science & Industry." According to the lot notes, the face was chosen after a conference in the fledgling U.S. house, which decided on lady liberty—against the wishes of the U.S. Senate, which apparently lobbied for the face of George Washington, then the sitting U.S. president.
On the reverse, a laurel wreath surrounds the words "One Cent," which is surrounded, in turn, by "The United States of America" in a larger font. In case there was any confusion about the value of the currency, there's a helpful 1/100 underneath the wreath.

This isn't the first time the coin has come up for sale. It was considered a collector's item as early as 1882, when it was offered as part of the collection of Charles I. Bushnell Esq., a collector of Americana. It popped up eight years later, in 1890, and again in 1921. Four years after that, in 1925,  it was advertised for sale for $1,000 (approximately $13,500 today, adjusted for inflation). It last appeared in 1975, when it was purchased by the current consignor, who is selling it to benefit the Henry P. Kendall Foundation, which works to nurture sustainable food systems in New England.
The auction has a total of 560 lots. Aside from the Birch Cent, other standouts include a silver center cent, also from 1792, which is expected to sell for around $400,000, and an (ill-fated) Confederate States of America half-dollar, which also features lady liberty—this one seated and endowed with dubious physical proportions—which is expected to sell for more than $600,000.
In total, the collection is expected to net from $5 million to $10 million.
The auction comes at a time when the coin market is at its highest point ever. In 2014, an estimated $536 million of rare coins sold at auction, and the U.S. market rose to an estimated $5 billion, according to the Professional Numismatists Guild. A representative from Stacks auction house says that a range of collectors will be vying for the Birch cent: Americana collectors, coin collectors, and investors hoping to capitalize on the coin's rarity. Although the auction house won't comment on specific bidders, here's reason to believe that the coin will easily surpass the $2 million estimate—a Birch coin sold for a stunning $2,585,000 in January.

Before it's here, it's on the Bloomberg Terminal.
LEARN MORE