The Trial That Makes Silicon Valley Shudder
Ellen Pao's victory is nowhere near assured, but her case will echo in the tech industry for a long time
By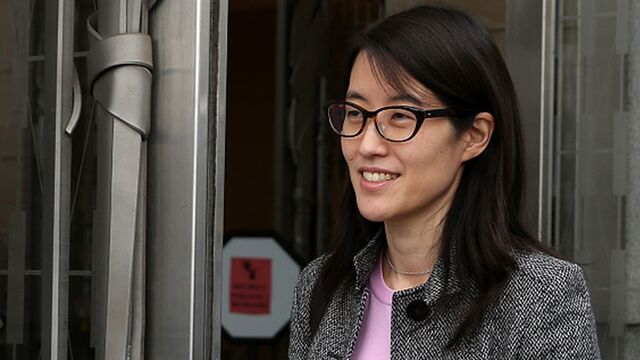 It's possible to isolate one of the moments in which an ordinary gender discrimination trial—albeit one with extraordinary characters—reveals its broader significance. On Feb. 27, Ted Schlein, the ultra-marathon-running managing partner of the blue chip venture capital firm Kleiner Perkins Caufield & Byers, was testifying about the seven-year employment of Ellen Pao, a 45-year-old former junior partner who alleges that her advancement at the firm was blunted by an atmosphere of pervasive sexism. Kleiner's lawyer asked: Hadn't Pao complained repeatedly about being directed to sit in the outer edge of the room, instead of at the center table, during key meetings? Schlein flatly dismissed the charge, noting that it was a woman from outside the firm who had set up the seating chart for a meeting at which Pao felt slighted. Then he added: "I really don't think it was a very big deal to us who sits at a table or who does not."
There are always two stories in every Big Trial: the case itself, with its conflicting sets of facts, and the wider narrative—the way those facts fit into the lives of millions of people outside the courtroom. The Ellen Pao case, now in its fourth week in a San Francisco courthouse, resonates wildly on both levels. The trial has become Silicon Valley's version of Anita Hill's Senate testimony during Clarence Thomas's 1991 Supreme Court confirmation hearing. Pao's case revolves around accusations of more subtle forms of sexism and harassment than pubic hairs on Coke cans—boys-only dinners, frat-house conversation on private planes, and promotions that may or may not have been withheld because Pao was that rarest of breeds in the cosseted world of venture capital: a woman.
When Pao filed her case in May 2012, little thought was given to the gender imbalance at high-tech companies and on Sand Hill Road, seat of the powerful venture capital industry. Now, leading tech companies such as Apple, Google, and Intel annually publish lopsided internal-diversity and gender numbers and publicly vow to do better. STEM (science, technology, engineering, and math) programs for girls, along with conferences for female professionals, have proliferated. A sizable amount of credit for the change goes to Sheryl Sandberg, Facebook's chief operating officer, whose 2013 bestseller, Lean In: Women, Work and the Will to Lead, explored the unconscious and sometimes self-inflicted strains of sexism that hold women back. If Pao wins her case, she may have Sandberg to thank. The book, with frank chapter titles such as "Sit at the Table," offers the ultimate retort to Schlein: Of course it's a big deal where women sit in meetings.
Pao is asking for $16 million in damages, but the stakes go well beyond the money. Hanging in the balance are the reputations of some of Silicon Valley's most esteemed investors, including John Doerr, an early backer of Google and Amazon.com. Doerr has arguably done more than any other venture capitalist to bring female partners into Kleiner and to evangelize on behalf of women entrepreneurs; as a result, Kleiner's partner directory looks far more diversified than the indefensible men-only clubs at other big companies. Also up in the air is the future of Pao, who's now "interim CEO" of the popular online discussion board Reddit. She is the sole plaintiff, unlike similar cases in which women employees have banded together in class action groups to take on investment banks, accounting firms, and news organizations. Photographers covering the case have taken to shooting her each morning during the five-minute walk from an underground parking garage to the Superior Court of California on McAllister Street. She's unfailingly smiling and confident, but the pictures drive home a larger point: In this case, Ellen Pao stands alone.
To win, according to California state law, Pao must persuade a 12-person jury that "her gender was a substantial motivating factor in the decision" not to promote her to senior partner and ultimately, to terminate her employment. In an unusual move, Judge Harold Kahn has allowed jury members to submit written questions to each witness. Their queries for Pao, after her testimony ended on March 13, were tough: "Why did you stay and work in an environment you didn't trust from the outset?"
Even if she doesn't prevail, the trial has illustrated in uncomfortable detail a conversation that many in the business world have been having since the publication of Lean In. Sandberg taught business people to consider carefully whether women's ideas were being received as openly as ideas from men, as well as to ensure that female employees were allowed to speak without frequent interruption. She put a spotlight on the exasperating and subtle contradictions of the workplace, such as how men are often described as "confident" and "having leadership qualities," while women exhibiting the same type of behavior are viewed as "bossy" and "territorial."
Now here's Pao accusing Kleiner of wielding many of these double standards. She says she was told that she was too passive on the boards of Kleiner's startups and too quiet in meetings of the firm's partners, which were dominated by male investors with Ph.D.s in the art of bloviation. At the same time, in performance reviews, she was accused of being too brash and competitive with peers, while a second female junior partner—who was also passed over for promotion—was criticized for speaking too much.

"The frustration I have is that behaviors that were acceptable by men were not acceptable by women," Pao testified on March 13, responding to a juror's question as to how she would characterize her issues in the workplace. It echoed Sandberg, who wrote in January, in a New York Times op-ed co-authored with Wharton professor Adam Grant: "When a woman speaks in a professional setting, she walks a tightrope. Either she's barely heard or she's judged as too aggressive. When a man says virtually the same thing, heads nod in appreciation for his fine idea."
Pao's case illustrates other Sandberg points, perhaps intentionally. She alleges that in 2007 she pitched the firm on an investment in Twitter and was overruled, leaving Kleiner to make a considerably less-lucrative investment in 2010, led by a male partner. ("I have listened to women vent frustration over being undervalued and even demeaned on a daily basis," Sandberg writes in Lean In.)
Pao has also raised an incident in which one of the firm's senior partners, former Hewlett-Packard Chairman Ray Lane, asked her and a second female colleague to takes notes at a partners' meeting. "I just froze, I wasn't sure what to do," Pao testified on the stand. Sandberg talks about the disturbing tendency of managers to assign the "office housework" to women. "These activities don't just use valuable time; they also cause women to miss opportunities," she wrote in a separate New York Times op-ed. "The person taking diligent notes in the meeting almost never makes the killer point."
Kleiner clearly made mistakes, even if the court finds it didn't break any laws. (The case could go to the jury as early as March 23). Kleiner waited too long to fire a male partner who seemed to be treating the firm as his own private dating website. It promoted Pao's male peers, despite investment records no better than hers. And the top decision makers at the firm—a group of six called the operating committee—was made up entirely of men, typically a bad omen for gender-sensitive decision-making.
For all its societal echoes, Pao v. Kleiner Perkins will be decided on the facts by the six women and six men of the jury. And it's at the granular level of workplace truths that Pao's case is struggling.
The cross-examination, led by Kleiner attorney Lynne Hermle, has been merciless. Pao engaged in a consensual affair with a married co-worker who, she charges, made her professional life difficult after their breakup. Testimony has shown, though, that she inexplicably lobbied for the colleague not to be fired, even after her mentor, Doerr, seemed set on the man's dismissal. Pao also suggested in an e-mail that the firm fire two other junior partners—including one woman—instead of her former lover.
Kleiner's lawyers have also insinuated that Pao was plotting to haul the firm into court all along. They point to hundreds of thousands of pages of messages and internal memos she forwarded to her personal e-mail address. In early settlement talks, the firm pointed out, she demanded an eight-figure payout. When asked by a juror why she didn't more seriously consider going through mediation with her former employer, Pao answered, "It seemed Kleiner wanted a process that was quiet and confidential. I wanted an open courtroom where I could tell my story."
To a jury, all this might seem like indecorous scheming, rather than a crusade for justice. At one point in cross-examination, Hermle asked Pao if she had done anything to promote the cause of women at Kleiner Perkins or in any of the other portfolio companies where she sat on a board. Pao didn't have a good answer.
All this back story and testimony would be enough to keep Silicon Valley talking for months. But to get a sense of how the case has turned into a Defining Valley Moment, it's worth factoring in the material that Judge Kahn has ruled inadmissible. Pao is married to former hedge fund manager Alphonse "Buddy" Fletcher Jr., who has sued both a former employer and his New York apartment complex for racial discrimination. His company, Fletcher Asset Management, has sought bankruptcy protection. Fletcher was previously in a long-term relationship with a man, which adds a further layer of drama to the tale. If Kleiner loses the case, surely it will appeal on grounds that Pao's precarious financial circumstances are actually very relevant.
That said, a Kleiner victory is well within the realm of the possible. Many women in the tech industry are concerned that Pao's case is weak and that her accusations might exacerbate bias in the workplace. "I worry that it will make a lot more men feel that—being nice to and mentoring and trying to be a good person toward women colleagues—they, too, will be hauled before a jury," says Melinda Riechert, managing partner in the Silicon Valley office of law firm Morgan Lewis. For example, a key allegation in the case is that a Kleiner partner, Randy Komisar, behaved inappropriately when he gave Pao a volume of Leonard Cohen's poems and drawings (entitled Book of Longing) on Valentine's Day and asked her out to dinner on a night when his wife was out of town. Komisar says it was completely friendly and that his wife bought the book for Pao. Will men now retreat from cordial gestures toward female colleagues?
Tracy DiNunzio, chief executive officer of Tradesy, an online fashion site in which Kleiner Perkins has invested, says she was recently told by a male chief executive officer that he doesn't know how to talk to female colleagues any more and that it's become too easy to say the wrong thing. The case "may make it harder for men to feel free to give women the kinds of constructive criticism that men receive regularly and that they benefit from," she says.
This is what no one wants: a step backward for women in tech. Most large technology companies say their workforce is less than 30 percent female. Only 6 percent of VC investors are women, down from 10 percent in 1999, according to a study by Babson College. And Harvard Business Review studies from 2008 and 2014 found that 50 percent of women working in science, engineering, or technology will leave prematurely because of work environments they deem hostile.
These numbers are dispiriting. Meanwhile, vocal women on Internet messaging boards, including those operated by Pao's company, Reddit, continue to be regularly harassed and inundated with abuse, including anonymous rape threats, particularly when they bring up the topic of gender fairness.
Silicon Valley sold the world on the egalitarian promise of the Internet and framed the companies that are helping to build it as meritocracies in which the best ideas win. The Pao case—and the years in which it has gradually unspooled—have laid waste to that notion and revealed tech as yet another clubby industry susceptible to the same soft and subconscious biases. Pao tried to lean into these contradictions, and it landed her in court. —With Eric Newcomer and Sarah Frier
Before it's here, it's on the Bloomberg Terminal.
LEARN MORE