The Three Most Important Charts Today
Catch up fast, with charts.
by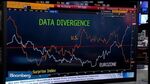 The running theme of the U.S. economic picture right now is contradiction. The labor market seems strong, but wages are still flat, and many other economic indicators are weak. Oil prices are plummeting and drillers are cutting back, but oil production keeps surging. 
To take another example, housing starts were released today—and were a huge miss. (A 17 precent drop vs. a consensus of -2.4 precent.) But people were generally unconcerned, both because of the lousy weather in February and that fact that new building permits actually went up.
This chart shows housing starts by region, and as you can see, in the Northeast and Midwest, starts absolutely collapsed.

Meanwhile, we might have gotten a sign that economic data is set to bounce back. This daily tracking poll from Gallup is at its highest levels of the year.
Meanwhile, The Bloomberg Surprise Index hasn't been this low in years, meaning that the economic indicators are coming in way below the expectations of economists.

Before it's here, it's on the Bloomberg Terminal.
LEARN MORE