Senate Stuck on Anti-Trafficking Bill, Delaying Vote on Loretta Lynch
Kathleen Miller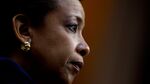 Senate Majority Leader Mitch McConnell called on President Barack Obama to urge Democrats to support a anti-human-trafficking measure, in a dispute that's delaying a confirmation vote for U.S. attorney general nominee Loretta Lynch.
The Senate on Tuesday didn't advance the human-trafficking bill, S. 178, on a 55-43 vote with 60 required. McConnell said Sunday that a dispute with Democrats over an anti-abortion provision in the measure may further hold up a vote on Lynch's confirmation, which is shaping up as a close one because of some Republican opposition.
Senate Minority Leader Harry Reid said it was "beyond irresponsible" to put off a vote to confirm Lynch because of the dispute.
"The chief law enforcement officer of our country is being detained because of this fight between us, Democrats and Republicans, over whether abortion should be in this bill," Reid, a Nevada Democrat, said on the Senate floor.
Lynch, 55, is Obama's choice to replace Attorney General Eric Holder, who has clashed with Republican lawmakers over issues including a law enforcement operation to crack down on gun-smuggling at the U.S.-Mexico border and federal challenges to states' voter-identification laws.
The vote "should be done immediately," Reid said. "There's no reason we can't do this now. Today."
Josh Earnest, a White House spokesman, said Monday a delay in the vote would be "unconscionable" and that there is "no plan B" for Holder's successor.
Corker's Opposition
Senator Bob Corker, a Tennessee Republican and chairman of the Senate Foreign Relations panel, said Tuesday he'll oppose Lynch's nomination because she won't be independent from Obama, and he's concerned "she won't refrain from selective administration of the law."
McConnell, a Kentucky Republican, said on the Senate floor, "the White House needs to get involved" to push Democrats to pass the human-trafficking bill. "So far the White House has barely lifted a finger."
A Democratic vote to block the bill would "represent a new low here in the Senate," the majority leader said before the vote.
The anti-abortion language bars use of federal funds for women seeking abortion except in cases of rape, incest or to save the woman's life.
Reid accused Republicans of using "sleight of hand" to insert that provision into the measure, which otherwise had broad bipartisan support. Republicans say they didn't conceal the anti-abortion language.
"Republicans have chosen to manufacture a political fight that has nothing to do with human trafficking," Reid said.