Rongsheng Shares Close Lower After Asset-Sale Announcement
Clement Tan and Jonathan Browning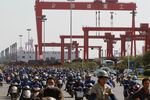 China Rongsheng Heavy Industries Group Holdings Ltd., the shipbuilder whose woes made it a symbol of the country's credit binge, ended down 4 percent today as trading resumed after the company said it planned to sell assets to an unidentified Chinese acquirer.
Up by as much as 12 percent early in the day, Rongsheng shares sank by as much as 6.7 percent before closing at HK$0.72 in Hong Kong trading. The company said it intends to sell the core assets and liabilities of its onshore shipbuilding and offshore engineering businesses, according to a statement to the Hong Kong exchange Monday.
"Rongsheng's share price was quite volatile today because people were trying to unload their positions when trading resumed," said Jackson Wong, associate director at United Simsen Securities Ltd in Hong Kong.
Once China's largest shipbuilder outside government control, Shanghai-based Rongsheng has been searching for funds after orders for new ships dried up and the company fell behind on principal and interest payments on 8.57 billion yuan ($1.4 billion) of bank loans. Rongsheng's struggles illustrate the difficulties Chinese shipbuilders face in competing with state-owned yards that have government backing and easier access to funds.
Exclusive Period
Rongsheng and the proposed buyer have entered into an exclusivity period while assets and liabilities are valued, according to the statement. The agreement will expire June 30, the company said.
Trading in Rongsheng shares had been suspended since March
11. The shares are some way off their record high of HK$8.11 hit in January 2011.
Rongsheng said March 5 it wouldn't proceed with a proposed warrant sale after Kingwin Victory Investment Ltd. owner Wang Ping -- a potential investor who had pledged as much as HK$3.2 billion -- was said to have been detained.
The company is trying to complete a restructuring by June and has proposed to change its name to China Huarong Energy Co. to more accurately reflect its expansion and new business scope.
Missed Rebound
Yangzijiang Shipbuilding Holdings Ltd. said previously it had been approached by China's government about buying a stake in Rongsheng, and that no decision had been made. Yangzijiang Chief Financial Officer Liu Hua said Monday the company isn't involved in the new agreement announced by Rongsheng, according to the company's external representative.
Rongsheng has sought help from the government to benefit from a rebound in China's shipbuilding industry -- the world's second biggest -- after cutting its workforce and running up debts amid a global downturn in orders.
As orders for new ships began to dry up, China in 2013 issued a three-year plan urging financial institutions to support the shipbuilding industry. Ship owners placing orders for China-made vessels, engines and some parts should get better funding, the State Council said. A third of the more than 1,600 shipyards in China could shut down in the next five years, an industry association predicted earlier.
In September, the government listed Rongsheng's Jiangsu shipyard unit among 51 shipbuilding facilities in China deemed worthy of policy support as the industry grapples with overcapacity.
Still, Rongsheng's debt amounted to seven times its equity as of June, according to data compiled by Bloomberg.
Some of Rongsheng's subsidiaries, including Hefei Rong An Power Machinery Co. and Rongsheng Machinery Co., signed agreements with domestic lenders, led by Shanghai Pudong Development Bank, to extend debt repayments to the end of 2015, the company said in October.
Before it's here, it's on the Bloomberg Terminal.
LEARN MORE