Rio Bridge From 'Furious' Movie Tests Scandal-Slowed Economy
David Biller and Christiana Sciaudone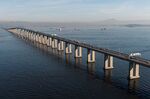 Brazil's first federal road auction since a corruption scandal ensnared construction companies is serving as a barometer for interest in such projects amid dwindling credit and confidence.
Six companies or groups have submitted bids to operate and maintain the Southern Hemisphere's longest bridge, which connects Rio de Janeiro to neighboring Niteroi, according to the federal Transport Ministry. The bids will be opened Wednesday in Sao Paulo.
"The bridge's auction will be a big test for this moment that Brazil is living through," Rio state Transport Secretary Carlos Roberto Osorio said in a telephone interview on Friday. "Its success will be a very important demonstration by the country to the world that Brazil is open for business, there are good opportunities and there is confidence in the long term."
The federal government's push to improve infrastructure that lags behind much of the world has been stymied by a stalled economy and the sweeping corruption scandal at Petroleo Brasileiro SA. Construction companies accused of forming a cartel and paying kickbacks for inflated contracts from the state-run oil producer have been all but cut off from credit, said Adriano Pires, head of the Rio-based energy and infrastructure consulting firm CBIE.
Fast & Furious
Few, if any, of the government's planned road concessions are landmarks like the 13-kilometer (8-mile) bridge spanning the Guanabara Bay, which will host the sailing competition during the 2016 Summer Olympics. The overpass was the scene of a skidding, high-speed police chase in the blockbuster "Fast Five," part of The Fast & The Furious movie franchise starring actors Vin Diesel and the late Paul Walker.
National transport agency ANTT received bids from: EcoRodovias Infraestrutura & Logistica SA; TPI- Triunfo Participacoes e Investimentos SA; CS Brasil Transportes de Passageiros e Servicos Ambientais Ltda.; and Infra Bertin Participacoes SA. Also submitting bids were groups Novo Guanabara and Consorcio Ponte, the agency said. The latter includes CCR SA, the current operator whose contract expires in May, ANTT said in e-mailed statement.
The World Economic Forum's 2014-2015 Global Competitiveness Report ranks the quality of Brazil's roads 122nd in a survey of 144 nations, behind even Bangladesh.
Financing will "certainly be the biggest challenge," said Osorio, Rio's transport secretary.
Halted Project
Brazil's government will start a new round of road tenders in the second half of 2015, and is studying the auction of three concessions, federal Planning Minister Nelson Barbosa said in a Senate hearing Tuesday. The Rio-Niteroi bridge auction is expected to be "very competitive," Barbosa said.
The most recent federal non-energy infrastructure auction was for the contract to expand and operate BR-153 highway, which builder Galvao Engenharia SA won in May. Galvao halted work on that project and fired more than 350 people because it doesn't have the financing to continue the work as it awaits the disbursement of an 800 million-real bridge loan from the state development bank BNDES, a person familiar with the matter said last week, asking not to be identified because the situation is private.
Fitch Ratings today downgraded Galvao Engenharia's local credit rating to CCC from BB+, which reflected intensifying liquidity risks as banks restrict credit, according to a statement.
Under terms of the Rio-Niteroi bridge contract, the winner will be required to invest 1.3 billion reais ($400 million) on the bridge to build infrastructure on both sides to improve traffic. The government estimates revenue will total 5.1 billion reais during the 30-year period. The maximum toll in the auction was set at 5.19 reais, below today's 5.2 reais rate. The bidder offering the biggest discount beneath the ceiling will win the concession.
Mature Project
"This is a mature project. It needs investment, but not a relevant amount and the cash flow is already coming in," said Renato Hallgren, an analyst at Banco do Brasil SA who covers road companies. "In theory, there are fewer risks" than other road concessions.
BNDES will finance 50 percent of the Rio-Niteroi bridge works in accordance with its new policy for road concessions, according to a person close to the discussions, who asked not to be identified because the talks are private. Rio-based BNDES is able to finance as much as 80 percent, 25 percent of that at a subsidized rate, according to its press office.
BNDES and other banks are being more selective in their loans, Hallgren said. Brazil's central bank increased the benchmark lending rate to 12.75 percent on March 4, its highest in six years, from 12.25 percent.
"Banks have put the brakes on," Hallgren said by phone from Sao Paulo. "That doesn't mean they'll stop lending. It means they will loan at a higher rate and will further postpone disbursement."
Before it's here, it's on the Bloomberg Terminal.
LEARN MORE