Osborne 'No Giveaways' Budget Pledge Defies Tory Precedent
Tom Beardsworth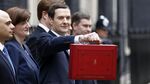 (Bloomberg) -- U.K. Chancellor of the Exchequer George Osborne has pledged "no giveaways, no gimmicks" in his pre-election budget. If that's true, he'll be defying long-standing Tory tradition.
Twice since World War II, in 1955 and 1983, a first-term Conservative government has been able to increase its number of seats in the House of Commons and retain power -- something Prime Minister David Cameron will need to repeat in the May 7 election. In both those years, the Tories were able to offer budgets featuring tax cuts just before the vote, helping sell their argument that, after some difficult years, good times were just around the corner.
With the economy growing and the inflation rate at its lowest on record, Osborne's budget statement Wednesday is perhaps the most high-profile opportunity the Conservatives have between now and May 7 to get precisely the same message across to voters.
Pre-election budgets "help you reinforce a certain narrative," according to Tim Bale, professor of politics at Queen Mary, University of London. "If you look back at pre-election budgets the opposition always says 'bribery!', but the problem is: you acknowledge the success of budgets if you accuse it of being vote grabbing."
Neither the Tories nor Labour have been able to open up a lead in the opinion polls, which suggests that both will end up well short of a parliamentary majority, needing support from smaller parties to pass legislation.
Rab Butler
Six decades ago, Chancellor Rab Butler cut income-tax rates and raised the income level at which tax started to be paid. The Tories, led by Anthony Eden, boosted their majority in the House of Commons in the 1955 election.
After the election was won, the government reversed several of the tax cuts and raised interest rates. The Labour opposition accused the Conservatives at the time of a fiscal policy that was "calculated to deceive the electorate and was designed for party-political ends."
In 1983, as Margaret Thatcher fought for a second term after winning the 1982 Falklands War, Chancellor Geoffrey Howe offered income-tax cuts and extra tax relief on mortgage repayments. Howe, whose earlier budgets had provoked the ire of economists for squeezing government spending during a recession, moved to the Foreign Office after the election.
An expanding economy and state asset sales allowed his successor, Nigel Lawson, to cut the basic tax rate to 27 percent from 29 percent in his budget before the 1987 election, which the Tories also won.
'Bribes Budget'
"Then there was good evidence to suggest the economy was boiling over but because of hubris, perhaps electoral considerations," the tax cuts went ahead, Bale said. It was a "bribes budget," according to the Labour leader at the time, Neil Kinnock.
And in March 1992, Chancellor Norman Lamont brought in a reduced 20 percent starting rate of income tax. While the Conservatives lost votes in the following month's election, they still eked out victory when bookmakers and pundits expected them to lose.
The move "completely wrong-footed Labour, who were not sure whether to oppose or support a low rate band because of its appearance of help for the lower paid," Lamont later wrote. "Looking back on it, it was not a very good budget. But it did help us win the 1992 election."
'Best Budget'
Lamont's post-election budget in 1993, formed with the help of his young aide, David Cameron, announced big tax increases on household gas and electricity. That "was definitely my best budget" even though it later contributed to the Conservatives' electoral demise, Lamont wrote.
Not everyone shares that view.
For Ken Clarke, the Tory chancellor two decades ago, "no budget before an election has actually made a difference to an election outcome in living memory," he said last week in a BBC interview.
Clarke's final budget in 1996 cut taxes on income and inheritance and boosted public spending on health and education. Still, that and a growing economy didn't prevent Tony Blair's Labour Party winning the election by a landslide majority a few months later.
Amid the financial crisis that overshadowed the end of 13 years of Labour rule under Blair and Gordon Brown, there could be no expectation of a pre-election giveaway in 2010.
'No Money'
Thanks to higher spending on public services and a deep recession that had cut into tax revenues, Brown's chancellor, Alistair Darling, had little leeway to reward voters. Leaving government seven weeks later, his No. 2 at the Treasury, Liam Byrne, left a written note to his successor reading "I'm afraid to tell you there's no money left."
Now, state borrowing is about half what it was five years ago as a share of the economy. Lower-than-anticipated inflation is cutting the cost of servicing index-linked bonds, permitting the government some wiggle room to ease austerity while sticking to its public deficit targets.
Potential budget announcements by Osborne tomorrow include an increase in the inheritance-tax threshold, according to government documents seen by the Guardian, and tax relief for the North Sea oil and gas industry, which has been hit by a slump in oil prices.
A cut to income tax and beer duty, and a minimum wage increase above a recommended 3 percent, are all plausible options, according to Morgan Stanley.
Faced with a knife-edge election contest, Osborne may have weighed skeptically the advice offered by Ken Clarke last week.
"Ignore all this rubbish you always get in a pre-election budget about how it's all down to you to give money away," the former chancellor said. "The public are not silly; they're not expecting you to shower them with money."
To contact the reporter on this story: Tom Beardsworth in London at tbeardsworth@bloomberg.net
To contact the editors responsible for this story: Fergal O'Brien at fobrien@bloomberg.net Eddie Buckle, Andrew Atkinson
Before it's here, it's on the Bloomberg Terminal.
LEARN MORE