Oil Rig Squeeze Puts DNB on Alert to Help Billionaire Fredriksen
Mikael Holter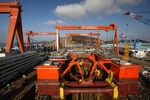 DNB ASA is willing to help billionaire John Fredriksen's Seadrill Ltd. and other loan clients that are being squeezed by a 40 percent plunge in rental rates on oil rigs.
Norway's biggest bank is prepared to defer loan-repayment installments for drillers such as Seadrill. The bank is looking specifically at helping companies with the most advanced rigs, said Harald Serck-Hanssen, executive vice president for Large Corporates and International, at the Oslo-based lender.
"We see higher risk in the rig market going forward," he said in a March 12 interview in the Norwegian capital. "We can grant installment postponements for a period, worst case."
A 50 percent drop in crude prices over the past nine months has led oil companies to cut investments, reducing demand for offshore drilling just as rig owners were suffering from an over-supply of new vessels. Rig contracts have been canceled and charter rates have tumbled. Seadrill and companies such as Ensco Plc and Transocean Ltd. have over the past months booked billions of dollars in impairments, cut dividends and delayed delivery of new rigs.
Banks Supportive
DNB had 17.6 billion kroner ($2.1 billion) in so-called exposure at default to rig clients at the end of 2014.
Clients include Seadrill, Serck-Hanssen said, declining to name others. None of DNB's customers in the rig industry have so far requested deferments or other loan amendments, he said.
Seadrill, which doesn't expect the rig market to recover before 2017, said in its fourth-quarter report that its group of banks remains "very supportive" as attractive funding options have narrowed to secured-bank and export-credit-agency markets. The company has a $4.8 billion funding need through 2016.
Iain Cracknell, Seadrill's spokesman, declined to comment on the company's dialogue with banks.
Seadrill had total debt of $12.6 billion at the end of 2014, of which credit facilities made up $8.6 billion.
The difficulties are also being felt in the bond market. The company's 5.625 percent senior unsecured $1 billion note maturing in 2017 has declined 16 percent over the past six months. The note yields 1,157 basis points more than the U.S. swap curve, widening from 364 basis points in September.
Biggest Risk
Fredriksen, Seadrill's founder and biggest shareholder, has seen his fortune dwindle by $830 million this year to about $10.9 billion, according to Bloomberg billionaire rankings. Seadrill's shares have plunged 62 percent in the past six months.
Hamilton, Bermuda-based Seadrill is in a strong position relative to competitors thanks to high-end vessels and high contract coverage through 2016, Danske Bank A/S said in a March 2 credit analysis.
DNB has provided funding mostly for fleets of modern rigs, Serck-Hanssen said.
Even as day rates have deteriorated to below $400,000 for the most advanced vessels, compared with $650,000 from two years ago, the Norwegian bank expects these fleets to be able to obtain average rates of at least $275,000, the level needed to make interest payments less installments, in addition to covering operating expenses, he said.
"The biggest risk on the rig side isn't those rigs, but the old, simple rigs that are about to be outdated with current security requirements," Serck-Hanssen said.
Before it's here, it's on the Bloomberg Terminal.
LEARN MORE