N.Y.'s Time Running Out to Extend Cuomo Record of Timely Budgets
Freeman Klopott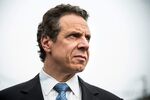 With two weeks left before the new fiscal year, time is running out for Governor Andrew Cuomo to extend his streak of four on-time budgets, which helped earn New York its highest credit rating since the Nelson Rockefeller era.
Cuomo, a second-term Democrat, has delivered an ultimatum to lawmakers, saying he won't sign the spending plan unless they pass an ethics overhaul as part of the budget for the fiscal year starting April 1. The brewing standoff comes after Assembly Speaker Sheldon Silver's arrest in January on federal corruption charges.
Legislators have little power under the state constitution to rebuff the governor, other than to stall. They're already doing that by not introducing the appropriation-tied ethics budget amendments, usually done automatically, reducing the chances that a divided legislature will approve the $141.6 billion package.
"That's the question, will all this result in a late budget?" said Howard Cure, director of municipal bond research in New York at Evercore Wealth Management LLC, which manages about $5.7 billion. "The governor has viewed on-time budgets as a source of pride and a way of showing off his fiscal credentials."
Shutdown Risk
New York's streak of timely spending plans is the longest since 1977. In July, Standard & Poor's raised the state to AA+, one below the top and its highest since 1972, with a stable outlook. A budget signed after April 1 risks shutting state government and hampering school districts' ability to plan their finances before May deadlines.
"The governor said we would not sign off on a budget that did not include meaningful ethics reform and he meant it," said Rich Azzopardi, a Cuomo spokesman.
Legislative leaders say they plan to get the budget done on time. They've been meeting with Cuomo in his office, the site of annual talks among the Assembly speaker, the Senate majority leader and the governor, known as Three Men in a Room -- an inference to the triumvirate that decides state affairs behind closed doors. Those negotiations are set to pick up pace starting this week as the deadline approaches.
"A lot of people say, 'Woe is me, the government is going to close down,'" Dean Skelos, the Long Island Republican who leads the Senate, told reporters in Albany March 12. "It's not going to close down."
Bond Verdict
The threat of a late budget didn't undermine the state's first general-obligation sale in two years. New York sold the debt March 10, with tax-exempt bonds maturing in a decade priced to yield 2.23 percent, in line with the 2.2 percent rate for top-rated municipal securities.
The extra yield investors demand to own New York debt instead of benchmark munis has shrunk to about 0.05 percentage point, from about 0.25 percentage point a year ago, data compiled by Bloomberg show.
Neither the Assembly nor the Senate have introduced the ethics-focused budget amendment that Cuomo, 57, proposed last month. The measure would halt lawmakers' reimbursement for expenses if they don't agree to release information about their clients and business ties through other employment.
The state constitution gives budgeting power to the executive and only allows lawmakers to reduce the spending the governor proposes or eliminate it. They're unable to alter policy proposals that are tied to appropriations without the governor's approval.
The only recourse for lawmakers is to hold up the budget, a step they took in the past that made late spending plans the norm for decades, said Richard Ravitch, who was lieutenant governor for David Paterson, Cuomo's predecessor.
'Terrible Position'
"It puts them in a terrible position," said Ravitch, who's now on the board of directors of the Volcker Alliance, a New York-based group created by former Federal Reserve Board Chairman Paul Volcker to build public trust in government.
"The legislature doesn't want to be blamed for a late budget because journalists make it sound like a heinous crime," Ravitch said.
Leaders of both chambers say they haven't introduced Cuomo's amendments because they're reviewing them. Assembly Speaker Carl Heastie said in a March 11 radio interview that the budget shouldn't be used to force ethics changes on the legislature. Heastie won the job last month after Silver resigned amid allegations that he reaped almost $4 million through two kickback schemes. Silver says he'll be exonerated.
Public Appeal
"I continue to challenge the public and the media to be concerned about the Legislature being threatened into negotiations," said Heastie, a Bronx Democrat.
Cuomo says if lawmakers don't like his budget tactics, they can change the constitution. Heastie told reporters in Albany on March 12 that he's considering that approach.
While Cuomo and previous governors have inserted public policy into appropriations bills before, Cuomo's 2016 budget does so more extensively, said Richard Brodsky, a former assemblyman. The constitution and a court ruling grant the governor too much power in the budgeting process, Brodsky said.
"It's un-American, it's profoundly un-Democratic, and it's a terrible system," he said. "Do we really want a system where the governor of the state of New York has power, for example, to repeal human rights laws in a budget?"
Before it's here, it's on the Bloomberg Terminal.
LEARN MORE