Myanmar Jails Three for Using Buddha Picture to Promote Bar
Chris Blake and Kyaw Thu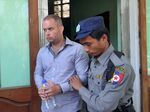 A court in Myanmar sentenced three men, including a New Zealand national, to two years in prison for using an image of the Buddha wearing headphones to promote their bar.
The court in Yangon found bar general manager Phil Blackwood of New Zealand, owner Htun Thu Rein and manager Htut Ko Ko Lwin, both from Myanmar, guilty of violating the Religion Act for posting the advertisement on Facebook in December. They received an additional six months for selling alcohol during prohibited hours, for a total sentence of 2 1/2 years.
"The decision is not fair," Htun Thu Rein's father Maung Maung said outside the court Tuesday. "We will appeal."
It's illegal to offend or damage any religion in Myanmar, a Buddhist-majority nation where the Buddha's image is considered sacred. While prison sentences are rare, Myanmar last year forced a Canadian tourist to leave the country because he had tattoos of the Buddha on his leg.
Parmauk Ka, a monk with the Committee for the Protection of Nationality and Religion, said Tuesday's verdict was "according to the law" and his group welcomed it.
While those convicted acted in a "culturally insensitive way," it was nothing they should be jailed for, said Phil Robertson, the deputy Asia director for Human Rights Watch.
"What this shows is freedom of expression is under greater threat than ever in Burma," Robertson said by e-mail, using the former name of the country. "The authorities should accept the heartfelt public apology of the three men, vacate the conviction, and order them to be released immediately."
'Stupid Mistake'
Blackwood's father told the New Zealand Herald that his son should have been found not guilty because it wasn't an intentional act.
"There's no way that Philip would do anything like that maliciously," Brian Blackwood told the newspaper in an interview from Wellington. "It was just a stupid mistake that he made posting that image."
The conviction comes amid rising Buddhist nationalism in Myanmar that has often spiraled into violence directed at minority Muslims.
Hundreds of people have been killed and hundreds of thousands have been displaced in the violence. Wirathu, a popular Buddhist monk who has pushed for a law that would ban interfaith marriage and conversions, has been accused of stoking deep-seated prejudice against minorities.
Before it's here, it's on the Bloomberg Terminal.
LEARN MORE