Israel's Election Limbo Seen Aiding Quest for Weaker Shekel
Gabrielle Coppola and Shoshanna Solomon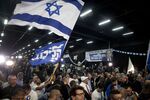 Israel's shekel may extend its decline as investors await the formation of a new governing coalition after a close election, according to BlueStar Global Investors LLC.
The Israeli currency was little changed at 4.007 per dollar in New York Tuesday, bringing its loss this year to 2.7 percent. Exit polls showed the race between Prime Minister Benjamin Netanyahu and rival Isaac Herzog was too close to call. The stalemate raised the prospect of weeks of negotiations to form a coalition.
Israel's currency has dropped 14 percent in the past year as policy makers guard against shekel appreciation to protect exports that make up more than a third of gross domestic product, which expanded at the slowest pace since 2009 last year. The election stalemate may delay economic reforms that could affect the currency, such as regulators' decision last year to reconsider foreign stakes in Israel's two largest natural gas reserves.
"It could take up to six weeks for a coalition to be formed, so that's six weeks of uncertainty," Bruce Schoenfeld, research director at New York-based BlueStar Global Investors, which builds indexes to invest in Israeli companies, said by phone. "It puts off a decision about the prospect of seeing inflows from Israeli gas, which is one of the forces that's been behind the shekel's appreciation."
The Bloomberg Israel-US Equity Index of the largest U.S.- traded Israeli companies rose 1.2 percent on Tuesday, led by cybersecurity company CyberArk Software Ltd. The Tel Aviv bourse was closed for the election holiday.
Sell Shekels
Analysts at Royal Bank of Scotland Plc advised clients to maintain bets against the shekel before the election results were announced, saying that the Bank of Israel is likely to continue to push for more currency weakness.
"Should results show an unexpected outcome, the market might respond with a weakening currency," the analysts wrote in a note to clients before the exit poll results were published.
Netanyahu's Likud party was set to capture 28 of parliament's 120 seats in Tuesday's election, with Herzog's Zionist Union taking 27, according to Channel 2's exit poll. Two other surveys by Channel 1 and Channel 10 showed the parties tied at 27 seats. Final results are to be announced late Thursday.
In the past seven Israeli elections going back to 1996, it took an average of 38 days to form a governing coalition, during which time the TA-25 index gained a mean of 1.3 percent, and the shekel rallied 0.7 percent, according to data compiled by Bloomberg.
Rate Cuts
Regardless of which party takes power, the ruling coalition will probably keep the budget deficit in check, paving the way for Bank of Israel Governor Karnit Flug to continue to weaken the shekel and fight deflation, said Shlomo Maoz, chief economist at S.M. Tel Aviv Investments Ltd.
"The Bank of Israel can keep its interest rates low because of the fiscal restraint, and this enables it to depreciate the shekel and make it more competitive," Maoz said by telephone on Tuesday. "To keep the shekel weak we will see more interventions from the Bank of Israel."
The Bank of Israel unexpectedly trimmed the policy rate last month to a record low 0.1 percent as it seeks to revive economic growth and halt a decline in consumer prices. The central bank has reduced rates 13 times since 2011 and bought foreign currency to weaken the shekel and make exports more competitive.
Economic growth slowed to 2.8 percent last year from 3.2 percent, in part due to the conflict in the Gaza Strip in July and August. Growth will rally to 3.2 percent in 2015, the Bank of Israel forecast in December.
The shekel will weaken to 4.05 per dollar by the fourth quarter of 2015, according to the median estimate of 21 analysts surveyed by Bloomberg.
Before it's here, it's on the Bloomberg Terminal.
LEARN MORE