House Republicans Propose Balanced Budget in a Decade Through Cuts
Elizabeth Wasserman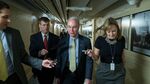 U.S. House Republicans propose to balance the federal budget in less than 10 years by cutting spending by $5.5 trillion without raising taxes, the chamber's budget committee chairman said Tuesday in an opinion article.
"This puts us on a path to pay down the national debt," Representative Tom Price, the Georgia Republican and House Budget Committee chairman, wrote in an article on USA Today's website. "This is in stark contrast to President Obama's budget proposal which never, ever balances despite trillions in tax increases."
Price said the House plan, to be released Tuesday, would repeal Obamacare, including mandates and taxes, overhaul the Medicare program without cutting it and give states more leeway to develop their own solutions regarding health care and education. Price offered few other specifics about how the cuts will be made.
House Republicans are expected to push economic growth as one way to balance the budget.
"Through policies like fundamental tax reform, expanded energy production and the streamlining or outright elimination of unnecessary regulations, our budget would create an environment where folks can plan for the future with greater confidence and optimism," Price said.
"From health care to education, states should be empowered to create their own solutions, free of onerous Washington mandates," he wrote. "The reforms we propose would save money, but, more importantly, they would allow us to find more effective means to achieve real results for American families."