Espirito Santo Collapse Triggers Bank Merger Discussions
Anabela Reis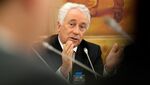 Just months after the Espirito Santo family empire unraveled, pushing what was once Portugal's largest lender into a bailout, a flurry of merger discussions is shaking up the banking industry.
Firms from Spain to China are looking at Novo Banco SA, the entity that emerged from the wreckage of Banco Espirito Santo SA, while Banco BPI SA drew a takeover offer from Spain's CaixaBank SA, its largest shareholder. Banco Comercial Portugues SA and BPI have also been cited as possible partners.
While no agreements have been reached, the talks may lead to greater foreign ownership of banks in Portugal, where Spain's Banco Santander SA already controls the fifth-largest lender by assets. Financial firms are seeking to increase scale and trim costs as record-low interest rates and a sluggish economic recovery hurt profitability.
"The greatest benefits from consolidation will come from the cost side," said Benjie Creelan-Sandford, an analyst at Macquarie Bank Ltd. in London.
Financial executives predict the European Central Bank's new role as supervisor of the banking industry for the euro area may ease the way for more crossborder combinations.
The shakeup began in August. Portugal's central bank rescued Banco Espirito Santo following escalating losses on loans to companies in the family-controlled Espirito Santo Group. The Bank of Portugal placed the lender's deposits and most of its assets into Novo Banco, and put the business up for sale. It invited non-binding offers by March 20.
Potential Bidders
The Portuguese unit of Santander, Spain's largest bank, has said it may bid, as did BPI. Banco Popular Espanol SA, Spain's No. 6 bank, and Apollo Global Management, the New York-based private-equity firm, also indicated interest, people with knowledge of the matter said in December. China's Fosun Group said in October that it might bid.
A Popular official said Monday the bank looks at all opportunities. Apollo and Fosun declined to comment on their plans, while Santander's Portugal unit and BPI didn't immediately respond to calls seeking comment.
Matters got more complicated last month. CaixaBank, which owns about 44 percent of Oporto-based BPI, offered to buy the remainder of the lender. It said the purchase would provide annual cost savings of about 130 million euros ($138 million) by
2017.
That move drew opposition from BPI's second-biggest shareholder, African investor Isabel dos Santos, who instead proposed that BPI study a merger with Banco Comercial Portugues, Portugal's No. 2 bank.
Combining BPI and Banco Comercial would create the country's biggest lender, surpassing state-owned Caixa Geral de Depositos SA. It would also generate "enormous synergies," Gonzalo Lardies, a fund manager at Banco Madrid Gestion de Activos, said last week.
'Unsuccessful Stories'
In response to a letter from Dos Santos, Banco Comercial said it was prepared to study a combination if BPI was interested and if regulations permit. No decision has been made, the Oporto-based bank said in a regulatory filing. BPI acknowledged the letter in its own filing, without commenting.
Recent merger attempts in Portugal haven't all gone well. In 2000, a proposed combination between Banco Espirito Santo and BPI collapsed over differences about which bank's management would be in control. In 2006, Banco Comercial made a hostile takeover bid for BPI that failed, and the banks later started merger talks that ended.
"The recent history of consolidation in banking in Portugal is full of unsuccessful stories," said Joao Pereira Leite, the director of investments at Banco Carregosa SA.
Even so, the collapse of Banco Espirito Santo has changed the landscape, providing a catalyst for lenders across the industry to examine their options, said David Vaamonde, an analyst at MainFirst Bank in Madrid.
Less Profitable
Lenders are jockeying for position less than a year after Portugal exited a 78 billion-euro international rescue program that also provided emergency support for both Banco Comercial and BPI.
The economy expanded 0.9 percent in 2014, after shrinking for two straight two years.
The banking industry is still recovering. While loans to corporations picked up in the past year, they remain below 2010 levels, ECB data show. Lending to consumers declined in every quarter since 2011. As banks have built up capital to meet tougher requirements, they became less profitable.
The industry's return on equity dropped to 2.2 percent in the third quarter of 2014, excluding Novo Banco, from 7.7 percent in 2010, based on the Bank of Portugal's latest data.
On March 9, Novo Banco reported a loss of 467.9 million euros for the period from Aug. 4 through the end of last year as it set aside funds for bad loans.
"Portugal is a small market," said Diogo Teixeira, chief executive officer of Optimize Investment Partners, a Lisbon-based firm that manages 112 million euros in assets. "I have long argued that lenders that operate in the country should be part of a bigger group."
Before it's here, it's on the Bloomberg Terminal.
LEARN MORE