Drought Threatens Kenyan Shilling as Tea Factories Cut Capacity
Eric Ombok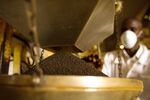 Kenya's shilling is set to weaken from a more than three-year low as a drought curbs output of its biggest export, some of the world's best-quality tea.
Factories in key tea-growing areas in southwestern Kenya are scaling back operations as hot, dry weather cuts deliveries by more than half, according to the government's Kenya Tea Development Agency. The amount of tea sold at the world's largest auction of the leaves in the coastal city of Mombasa dropped 27 percent from a year earlier in a sale held this week.
"The weaker foreign-exchange receipts are, the more pressure the currency may well find itself under," Jeff Gable, head of macro and fixed-income research at Johannesburg-based Barclays Africa Group Ltd., said Monday in response to e-mailed questions. "Falling tea prices are one part of the puzzle."
Tea, which competes with tourism as the biggest generator of foreign-currency in East Africa's largest economy, was introduced to the country's highlands in 1903 by British settlers. The Mombasa auction, which sells tea from at least 12 African countries to buyers as far afield as Afghanistan and Russia, competes with the Colombo Tea Auction in Sri Lanka as the world's biggest market for the leaves used to make the beverage.
The shilling is forecast to weaken about 2.5 percent over the next year to 94.4 per dollar, Gable at Barclays Africa said. The currency depreciated 0.1 percent to 92.10 by 2:30 p.m. in Nairobi on Wednesday. It fell to the weakest level since November 2011 on March 16. Over the past six months, the shilling has declined 3.7 percent against the dollar, compared with a 2.1 percent drop in the Sri Lankan rupee.
Growth Outlook
Tea exports earned Kenya $1.03 billion last year, Kenya National Bureau of Statistics data shows. Kenya's foreign-exchange earnings have also been curtailed by a drop in tourism receipts as visitors stay away because of "terrorist attacks" that have killed 361 hundred people since September 2013, according to Bath, U.K.-based risk consultancy Verisk Maplecroft. Tourism earns the country about $1 billion a year.
Agriculture accounts for a quarter of Kenya's $55 billion economy. Growth is expected to accelerate to 6 percent this year from 5.4 percent last year because of lower global oil prices, the World Bank said this month.
"Longer-term prospects for the currency are becoming more challenging with tea production faltering," Gareth Brickman, an analyst at Johannesburg's ETM Analytics, said in an e-mailed note last week. "While the dip in expected supply is supporting prices, decreasing export volumes will counteract this."
Reduced Offerings
Tea-auction prices are 24 percent higher than last year with leaves sold at this week's sale averaging $2.57 a kilogram, according to Mombasa-based Tea Brokers East Africa Ltd. The amount of tea sold last week was 5.41 million kilograms (11.9 million pounds), the brokerage said.
Prices may climb through May because even if rains predicted by the Kenya Meteorological Department arrive in April, they won't have an immediate impact on the crop, according to the East African Tea Traders Association, which runs the weekly sale in Mombasa.
The tea-growing regions in Kenya's Rift Valley and central Kenya highlands face the prospect of "depressed rainfall" in March before improving to "near-average in April and slightly enhanced in May," the state-run department said last month.
"Despite efforts by the government to put in place technology such as irrigation, a large portion of farming is still dependent on rain," Maureen Kirigua, a research analyst at Nairobi-based Sterling Capital Ltd., said by phone. "Reduced rainfall will have a significant impact on output and that will be reflected on overall economic growth."
Before it's here, it's on the Bloomberg Terminal.
LEARN MORE