Crimeans Who Ushered in the Russians Now Have to Live With Their Choice
'It's like I've betrayed someone, fled Ukraine when it was in trouble'
by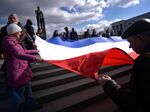 Yevgeny Repenkov, a soccer coach and local celebrity in Sevastopol, co-founded one of the "self-defense" units that helped Russia and pro-Kremlin rebels expel the Ukrainian government and military a year ago. He says he sometimes feels uneasy about having participated in what he calls a revolution.
"It's like I've betrayed someone, fled Ukraine when it was in trouble," he says.
Ethnic Russians in Crimea who cheered Vladimir Putin's annexation of the Crimean peninsula in March of 2014 are beginning to see what their victory means.
A few months ago, the pro-Russian majority in Crimea was still raving about higher salaries and pensions. Those gains have been eaten away by inflation that has reached 42 percent. A kilogram, or 2.2 pounds, of potatoes in Sevastopol costs the equivalent of 64¢, while it still goes for 22¢ in Kiev, Ukraine's capital.
Changing nationality wasn't Coach Repenkov's plan when he and his friends rose up against the Ukrainian government that came to power after protesters in Kiev deposed President Viktor Yanukovych. Yanukovych had spurned closer ties with the European Union to align Ukraine with Russia.
"Many things were better in Ukraine than in Russia, which for us was more like paradise lost,"  Repenkov says.
But bellicose statements made by nationalist Ukrainian politicians made him change his mind. The last straw was the parliament's move to revoke a law that gave the Russian language special status in regions where it is predominant. The law was reinstated a day later, but Repenkov was unmoved.
"Nothing would have happened here without these actions," he says. "Nationalism killed everything in Ukraine."
Called Sevastopol Against Fascism, Repenkov's unit helped Russian troops blockade Ukrainian army bases and hunt down "destabilizing elements," a euphemism for pro-Ukraine activists.
Russian President Vladimir Putin, who long denied Western accusations of sending in troops to destabilize Ukraine, has now admitted as much. In a documentary shown by Russian TV on Monday, he said the seizure of Crimea was a military operation carried out on his personal orders, and he explained that he had been ready to put his nuclear staff on red alert during the crisis.
Many of Repenkov's comrades-in-arms went on to fight in eastern Ukraine. "It was easy," Repenkov says. "People would approach me, and I knew where to direct them. They would end up in training camps near Rostov," in Russia, before crossing the Ukrainian border. Repenkov says he is grateful to the Russian special forces for the peaceful takeover. 
Now his football club, FC Sevastopol, which played in Ukraine's premier league, has disbanded; Europe's football association, UEFA, hasn't recognized the annexation of Crimea. He is trying to set up an independent Crimean league for junior players under the auspices of UEFA, but its prospects are unclear. 
A year after the Russian takeover, he finds his city neither here nor there.
"Sevastopol is definitely not Ukraine—it has never been a Ukrainian city. But it's not Russia, either," he says. "More like the USSR."
Retired Ukrainian military prosecutor Vladimir Kartashov saw his pension rise fivefold when Russia started paying it last spring. It made him believe he was right to take part in the hastily organized referendum on March 16 of last year. Today he's not so sure.
"I voted for joining Russia because, compared to Ukraine, it felt like a lesser evil," he says. "But it now seems that Russia is sending us all the worst things without sending any of the good ones." Like many Crimeans, he complains about lining up for days to get Russian documents and about incompetent transplants from regional Russian administrations, who are squeezing out local officials.
The new leaders in Sevastopol promised to turn the city into Russia's Silicon Valley. Instead, hundreds of Crimea-based information technology experts fled to the Ukrainian mainland after the U.S. and European Union banned contracting with Crimea-based businesses and making wire transfers from Western banks to Crimea. Ukraine's fledgling IT industry depends on contracts with Western software companies.
"In the last few months, pretty much everyone who can get a salary above $2,000 a month has left Crimea," says a Crimean software expert who is now based in the western Ukrainian city of Lviv. He asked that his name not be used because he hasn't moved all of his family members from Sevastopol. Local industry leaders such as SoftServe offered staff generous packages to relocate to mainland cities in Ukraine. 
Other professionals are leaving, too. An owner of a hostel for cyclists who explore Crimea's picturesque mountains, Marat Pavlenko, planned a major expansion to accommodate the foreign tourists who flooded in after the business was mentioned in the Lonely Planet guidebook series. Instead, he put his hostel on sale after the annexation.
"I am just not in the mood to continue," says Pavlenko, a Russian-speaker who regards himself as a Ukrainian patriot, even though he admits that his spoken English is better than his Ukrainian. "The only good thing is that I can now begin my life and business from scratch." Pavlenko has started taking his old customers on cycling tours in Turkey and Georgia. 
Tourism provides jobs to 200,000 out of two million Crimean residents. The vast majority of visitors were mainland Ukrainians, who are no longer making the trip. Russia has partly made up for the loss by filling up hotels with public employees on subsidized package tours, but it isn't enough. Many businesses, particularly those dealing with excursions and active leisure, are losing money.
Crimea's agriculture is in tatters becauseUkraine has practically suspended supplies via the Severokrymscky canal, which delivers water from the Dnipro River to the arid peninsula. A Crimean government official told Bloomberg Businessweek that the production of rice has stopped because the fields are dry. Strawberry fields, as well as large cherry and peach gardens, are also endangered, the official said.
Transportation problems have also gotten more acute since Ukraine suspended rail service from the mainland. People and vehicles line up for hours, or days, at the checkpoint on the border between Crimea and Ukraine proper, as well as at the ferry terminals on both sides of the strait of Kerch that separates Crimea from Russia. A dispute between the Crimean and federal governments has impeded the modernization of the ferry service, putting the upcoming holiday season at risk. The Crimean official predicted it will only get worse.
Before it's here, it's on the Bloomberg Terminal.
LEARN MORE