CME Said to Be in Talks for GFI Tech Assets After Losing to BGC
Matthew Monks and Zeke Faux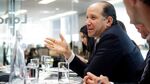 CME Group Inc. is pursuing GFI Group Inc.'s technology assets after losing a takeover battle for the brokerage to BGC Partners Inc., people with knowledge of the matter said.
CME has held preliminary discussions with BGC about buying GFI's trading-software units, called Trayport and Fenics, said the people, who asked not to be identified because the talks are in the early stages and could still fall apart. The assets may be valued at more than $600 million, the people said.
CME, the Chicago-based exchange operator, was targeting the software businesses last year, when it agreed to take over GFI and sell back GFI's brokerage unit to its founder, Michael Gooch. Howard Lutnick, BGC's chief executive officer, scuttled that deal with a series of higher bids, finally winning approval to buy GFI for about $778 million last month.
Representatives for CME, GFI, and BGC declined to comment.
Lutnick sought GFI to gain share in the shrinking market for interdealer brokers, which are used by banks to make big derivatives trades anonymously. BGC may be open to interest in the software businesses from bidders other than CME, two people said.
Trayport makes a system popular with commodities traders in Europe, while Fenics is for currency options.
Before it's here, it's on the Bloomberg Terminal.
LEARN MORE