Billionaire Fridman Bids for $2.8 Billion Turkcell Stake
Ercan Ersoy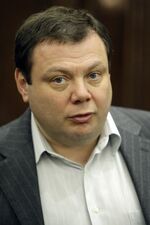 Russian billionaire Mikhail Fridman is bidding $2.8 billion to boost his stake in Turkey's biggest mobile carrier, seeking to buy out boardroom rival Mehmet Emin Karamehmet to increase his influence at the phone operator.
Alfa Telecom Turkey Ltd., a Fridman company, offered to buy 51 Group B shares of a joint venture, or an indirect 13.76 percent of the carrier Turkcell Iletisim Hizmetleri AS, for $54.9 million apiece from Cukurova Telecom Holdings Ltd., according to a public filing by Alfa Tuesday in Istanbul. The offer values Turkcell at almost twice at its market capitalization.
The offer is unlikely to succeed because Turkey's government has signaled that it wants the carrier to keep Turkish owners, Vera Sutedja, an Vienna-based analyst at Erste Group, said in an e-mailed note. Alfa's offer for the stake in Turkcell, founded by Cukurova Holding AS Chairman Karamehmet, will need the consent of both Cukurova and state lender TC Ziraat Bankasi AS, which holds Turkcell shares as collateral on a $1.6 billion loan secured by Cukurova in 2014.
"We think that the likelihood the Turkish state would allow the deal as minimum," Sutedja said. "Why would the state appoint Ziraat Bank to bail out Cukurova in the first place? We see a clear message from the state during the bailout of Cukurova in 2014 that it would be of the state's interest to keep Turkcell ownership in Turkey."
Shareholder Dispute
Cukurova officials declined to comment. A Ziraat Bank spokesman, who asked not to be named because of policy, said the lender doesn't have an immediate comment on the matter. Stuart Bruseth, a London-based spokesman for billionaire Fridman's Letter One which controls Alfa's assets, declined to comment.
Turkcell has been at the center of a dispute between the three main shareholders -- Alfa, Cukurova, and TeliaSonera AB -- after Alfa seized a Turkcell stake when it said Cukurova defaulted on a 2005 loan agreement for which the shares were pledged as collateral. Privy Council, a court for such disputes, resolved the disagreement in 2013, allowing Cukurova to find loans to repay $1.6 billion of debt to Alfa.
Alfa already owns 13.2 percent of Turkcell and Swedish phone carrier TeliaSonera holds 38 percent. Turkcell has failed to pay dividends since 2010 because of the dispute among shareholders.
Turkcell shares rose as much as 3.6 percent in Istanbul, the steepest intraday advance since Feb. 11, and were trading 2.4 percent higher at 12.85 liras at 5:12 p.m., valuing the company at 28.3 billion liras ($10.8 billion).
Alfa's offer values the company at $20.3 billion, more than the value of VimpelCom Ltd., in which a Fridman company has a majority stake, according to data compiled by Bloomberg. Turkcell has about 34.6 million customers while VimpelCom has more than 222 million in countries including Russia, according to the companies' 2014 reports.
Before it's here, it's on the Bloomberg Terminal.
LEARN MORE