business
U.S. May Revoke Settlement Agreements in Currency-Rigging Probes
David McLaughlin and Tom Schoenberg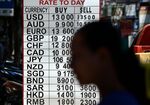 U.S. prosecutors investigating currency manipulation are considering revoking years-old settlements and prosecuting banks for rigging interest rates, according to people familiar with the matter.
The Justice Department is weighing whether evidence of wrongdoing in currency trading means banks violated old deals resolving probes into the rigging of benchmark interest rates, said two people, who asked not to be identified because final decisions haven't been made.
Barclays Plc, Royal Bank of Scotland Group Plc and UBS Group AG, which are operating under such agreements from the interest-rate case, are among banks being investigated in the currency case. The Justice Department is separately scrutinizing whether HSBC Holdings Plc's currency-trading practices violated a 2012 agreement settling a money-laundering probe, another person familiar with the matter said.
The Justice Department can tear up the deals and charge the banks if it finds they committed any crime after they were negotiated.
Deferred prosecution and non-prosecution agreements, as they are called, have been widely used by the Justice Department in recent years in investigations ranging from sanctions violations to market manipulation. A decision to revoke such a deal with a bank would be unprecedented.
Deals Overused
Such settlements require the banks to admit responsibility and cooperate with ongoing investigations. Critics including Securities and Exchange Commission Chair Mary Jo White, who pioneered such agreements, argue the deals have been overused and don't curb misconduct. The Justice Department defends the settlements, saying they force banks to correct wrongdoing and allow oversight.
The Justice Department "now understands that these deferred-prosecution agreements don't always work and there have to be serious consequences if companies don't take them seriously," said Brandon Garrett, a law professor at the University of Virginia who has studied the agreements. "I think DOJ understandably is frustrated and thinks enough is enough."
UBS and Barclays reached their settlements with U.S. prosecutors in 2012 to resolve claims of rigging the London interbank offered rate, while RBS's was finalized in 2013.
Violating Settlement
In a June 2014 agreement that extended Barclays's non-prosecution agreement, the U.S. said it's reviewing whether the bank's trading in foreign-exchange markets between June 2012 and June 2014 violated the 2012 Libor settlement. UBS's agreement was also extended "in connection with discussions of a possible resolution of investigations relating to our foreign-exchange business," the bank said in a filing.
Spokesmen for UBS, RBS, Barclays and the Justice Department declined to comment. A spokeswoman for HSBC didn't immediately respond to a request for comment.
Leslie Caldwell, the head of the Justice Department's criminal division, said in a speech Monday that the U.S. is prepared to tear up settlements and charge banks for conduct covered by the settlements.
"Where banks fail to live up to their commitments, we will hold them accountable," Caldwell said. "The criminal division will not hesitate to tear up a DPA or NPA and file criminal charges."
Caldwell, who didn't name any banks at risk of having their agreements revoked, said that a breach could lead to additional monetary penalties and charges based on the conduct covered by the agreements.
The Justice Department has been investigating alleged manipulation of currency benchmarks for almost two years and is pressing to resolve the probe with settlements that include guilty pleas from some of the institutions and penalties of roughly $1 billion for each bank, with some being asked for more and some for less, people familiar with the negotiations have told Bloomberg News. The government also has said it is preparing cases against individuals.
Before it's here, it's on the Bloomberg Terminal.
LEARN MORE