There's Not Much Yellen Can Do to Stop Dollar Rally, SocGen Says
Lisa Abramowicz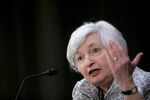 Kit Juckes, a global strategist at Societe Generale SA in London, says there's not much that can halt the U.S. dollar's ascent.
The greenback is rallying because the rest of the world is doing poorly in comparison. Yet any sign of U.S. weakness would only prompt international investors to pour more money into the nation -- not less -- since a slowdown in America would drag down other, less-stable countries, too, according to Juckes.
In other words, even if Federal Reserve policy makers signal this week that they plan to keep their easy-money policies in place longer than bond traders are currently expecting, that won't necessarily reverse the dollar's rally. If the world's biggest economy loses steam, that may just be bad for everyone else's currencies.
"If the Fed doesn't hike but the move is simply pushed off a little, does that really push down U.S. yields or change much?" Juckes wrote in an e-mail. "If the U.S. economy slows, that could actually be scary for asset markets" and send more money back into the dollar.
Juckes predicts the dollar will reach parity with the euro in the next year. Morgan Stanley analyst Hans Redeker is similarly bullish, saying the currency's only about halfway through what analysts at the bank are calling a super cycle.
That means the 0.8 percent dip in the greenback Monday against the euro to $1.0577 at 11:58 a.m. would just be a breather before the currency resumes its climb. The dollar has risen 14.4 percent this year versus the euro.
Euro Outlook
"It's clear that the American economy is doing better than the rest of the world," former Fed Chairman Alan Greenspan said in a Bloomberg Television interview last week. "That's not the same thing as saying the American economy is doing well. It's just that Europe is in terrible shape."
The only development that could really derail the U.S. currency's rally, according to Juckes, is if Europe's outlook dramatically improved, creating a bid for the euro. Or if the Fed signals it won't raise rates back to normal levels for the foreseeable future even as growth accelerates.
In the U.S., things are looking up. The world's biggest economy will expand at a 3 percent pace this year, up from 2.4 percent last year and 1.6 percent in 2011, according to analysts surveyed by Bloomberg.
And U.S. central bankers will meet this week and decide whether to drop or alter their stance of being "patient" on the scope and timing of interest-rate increases.
Futures trading shows a 52 percent chance they will lift the target rate to at least 0.5 percent by September, according to data compiled by Bloomberg. For Juckes, the probability of more dollar gains is a lot higher than that.
Before it's here, it's on the Bloomberg Terminal.
LEARN MORE