The Entire Global Economy in Two Big Slides
Get an instant snapshot of what's going on.
by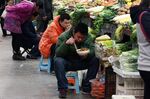 In its latest Global Economic and Investment Outlook, Macquarie Research published a series of charts showing the state of the world economy and world markets. Two slides near the beginning do a great job of capturing where everything is.
This one shows where key economies are in the economic cycle:

And this slide boils down the state of the world economy into 6 essential bullet points: 

Before it's here, it's on the Bloomberg Terminal.
LEARN MORE