What's the Damage From Switzerland's Biggest Currency Shock This Century?
Catherine Bosley and Andre Tartar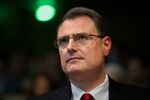 Thomas Jordan is about to reveal the damage from Switzerland's biggest single-day currency shock this century.
Two months after the Swiss National Bank abolished its cap on the franc, its officials are preparing their first economic forecasts to assess the impact of that move. President Jordan will give that outlook on March 19 at a policy assessment at which economists predict the central bank will keep its negative deposit rate at a record low.
"The strong appreciation of the franc after the cap was given up should significantly hit the Swiss economy," said Martin Gueth, economist at LBBW in Stuttgart, Germany. "We expect the SNB to remain in a wait-and-see mode, but should the franc appreciate, it will wage fresh currency interventions or even cut rates again."
The decision on Thursday gives the three-member SNB board an opportunity to jointly address the public after the denouement of the franc ceiling of 1.20 per euro on Jan. 15, a shock described as a "tsunami" by Swatch Group AG Chief Executive Officer Nicolas Hayek. SNB policy makers will hold a press conference in Zurich, breaking normal practice that would dictate waiting until June for the next such encounter.
Growth Slowdown
Officials will keep the deposit rate at minus 0.75 percent, according to 21 of 26 economists in Bloomberg's monthly economic survey. The rest say the SNB will intensify the charge. Policy makers are also seen holding the target range for three-month Libor at between minus 1.25 percent and minus 0.25 percent.
When the SNB gave up its cap on the franc, it surged over 15 percent against more than 150 counterparts tracked by Bloomberg, triggering losses at some financial firms and increasing the likelihood of rising joblessness and an economic downturn in a country that emerged from the financial crisis less bruised than many of its European neighbors.
Jordan has already warned there may be "one or the other" quarter of economic contraction. The prior forecast for growth of about 2 percent this year, issued in December when the cap was still in place, won't be met, according to the SNB president.
The three governing board members "probably feel obliged to explain their decision in January to lift the ceiling," said Julien Manceaux, senior economist at ING in Brussels. "There's been a lot of criticism, including at a political level."
Parity Danger
The economy is seen expanding 0.8 percent this year, with consumer prices tumbling 1 percent, according to a separate Bloomberg survey. Inflation is expected to pick up to 0.1 percent in 2016 and 0.4 percent in 2017.
Parliamentarians have urged the central bank to exempt local pension funds from the negative rate to shield constituents' old-age income. Earlier this month, the government found itself denying a report it sought to exert more influence over the central bank, including establishment of a new currency cap.
Fifteen of 20 economists don't expect the SNB to cut its deposit rate further in 2015.
"The franc's value will be the most important consideration taken by the SNB, regarding its policy vis-a-vis the deposit rate," said Bernard Yaros of Moody's Analytics. "If the franc appreciates above current levels, getting dangerously close to parity with the euro or even breaking it, that would trigger a further cut to the deposit rate later this year."
'Massively Overvalued'
Nearly all economists in the survey conducted March 6 to 13 agreed. A further slowdown in growth or inflation also could trigger a deposit-rate cut, some said.
Since early February, the franc has traded weaker than 1.04 per euro, even as the European Central Bank embarked on quantitative easing. At these levels, the Swiss currency remains "massively" overvalued, Alternate Governing Board Member Thomas Moser said last month. Still, he said he was "optimistic" Switzerland, whose exporters ship a big portion of their wares to the neighboring euro area, would be able to avoid a big recession.
The franc was down 0.5 percent at 1.0607 at 2:04 p.m. in Zurich on Monday. Against the dollar it stood at 1.0055.
While the SNB repeatedly stated it will intervene in currency markets even after it gave up the minimum exchange rate, sight deposits -- the cash commercial banks keep with the central bank -- don't point toward much activity.
They amounted to 378.8 billion francs ($377 billion) as of March 13, little changed from a week earlier, central bank data published Monday showed.
"The SNB did not buy any significant amount on markets since the end of January," said Valentin Bissat of Mirabaud Asset Management. "This implies that it feels comfortable with a level above 1.05."
Before it's here, it's on the Bloomberg Terminal.
LEARN MORE