Miliband Rules Out Coalition With Scotland's Nationalists
Benjamin Katz and Robert Hutton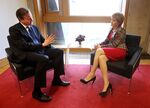 Labour leader Ed Miliband ruled out a formal coalition with the Scottish National Party after the head of the pro-independence party offered to help him "lock the Tories out" of government after May's U.K. election.
"Labour will not go into coalition government with the SNP," Miliband said at a campaign event in West Yorkshire in northern England. "There will be no SNP ministers in any government I lead."
Tory Prime Minister David Cameron accused Miliband last week of being "despicable" for not ruling out working with the SNP after the election, in which neither the Conservatives nor Labour are likely to win a parliamentary majority. Deputy Prime Minister Nick Clegg said Sunday his Liberal Democrats won't be party to an arrangement that put the SNP into government in London.
Miliband's declaration blocks Labour from a formal partnership with the SNP, but still leaves open the option of an informal partnership between the parties. Polls show the SNP, whose support has surged in the wake of last year's unsuccessful independence referendum, is on course to win the bulk of the 59 Scottish seats in the 650-member House of Commons. That may make it the third biggest party in Parliament.
Miliband spoke just hours after Scottish First Minister Nicola Sturgeon said the SNP wouldn't join a Conservative-led U.K. government after May's election, effectively committing it to supporting Miliband as the next prime minister.
'Looser Arrangement'
"Working with Labour in a looser arrangement I certainly wouldn't rule out," Sturgeon said after a speech at the London School of Economics. "We can lock the Tories out of government."
Sturgeon's statement shows how Labour could take office with SNP support even without a formal deal. If the party is committed to voting against a Conservative administration, Miliband would be able to count on its support in confidence motions and patch together majorities for other votes from across the House of Commons, appealing to the Liberal Democrats, Natalie Bennett's Green Party and parties from Wales and Northern Ireland.
Any partnership between Labour and the SNP was considered the least beneficial for British business in a YouGov Plc poll for the Westminster Policy Institute conducted in late February. A Conservative majority government was most favored, by 33 percent, with a majority Labour government garnering 19 percent and a Miliband-Sturgeon accord 5 percent. YouGov questioned 1,638 voters and didn't specify a margin of error.
After her speech, the first minister said that in the absence of SNP candidates, voters in England should opt for Green candidates or for a "progressive" Labour alternative.
Before it's here, it's on the Bloomberg Terminal.
LEARN MORE