Singapore February Home Sales Drop 48 Percent on Curbs
Pooja Thakur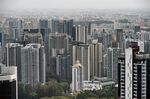 Singapore home sales in February slumped 48 percent from a year ago as lending curbs stemmed purchases.
Developers sold 382 units last month compared to 739 units in the same period a year earlier, according to data released Monday by the Urban Redevelopment Authority. Singapore's annual home sales dropped to a six-year low in 2014 as property policies hurt demand. Sales fell by half to 7,316 units last year from 2013, the lowest since 2008, according to data from the authority.
"The remainder of the year will also see low sales volumes," Nicholas Mak, an executive director at SLP International Property Consultants in Singapore, said by phone. Transactions "could end near 2014's new home sales levels unless some of the curbs are relaxed."
The government began introducing residential property curbs in 2009 as low interest rates and demand from foreign buyers raised concerns that the property market was overheating. Prices surged 40 percent in the five years to 2013 to a record, prompting some of the strictest measures, including a cap on debt repayment costs at 60 percent of a borrower's monthly income, higher stamp duties on home purchases and an increase in real estate taxes.
Residential prices fell 4 percent in 2014, the URA figures showed.
Among developers that began offering projects in February was Sims Urban Oasis Pte, which sold 112 of 200 units at its development in the city's east, according to data from the authority. The number of units marketed in February dropped by about half compared to January, Mak said.
Before it's here, it's on the Bloomberg Terminal.
LEARN MORE