Budget Culprit France Splits Analysts as EU Raises Pressure
Mark Deen and Andre Tartar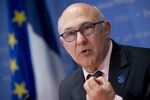 France's standoff with the European Commission over how fast to cut its deficit is mirrored in a split among economists about austerity and growth.
Six out of eleven economists in a Bloomberg survey say that France's current fiscal stance to narrow the deficit to 4.1 percent of growth domestic product this year is appropriate.
France has been a serial breaker of budget rules that it helped write, and European frustration is growing. The commission, European lawmakers, ministers and central bankers have all voiced concern about France's economic plans this year.
"French budgetary policy should have been different in the 1990s and the 2000s," said Dominique Barbet, an economist at BNP Paribas in Paris. When the economy is weak, it's not the "good time to tighten -- however, the winds are changing for the euro area" and growth should pick up this year, he said.
Among the other five economists in the survey, two say President Francois Hollande should be pushing harder to reduce the budget shortfall, two say the current consolidation plans are too ambitious, given the backdrop of economic stagnation and disinflation, while the final economist wants to see the government shift public spending toward investment.
Track Record
With its European partners, France is suffering from a decades-old poor record of compliance. Finance Minister Michel Sapin, who has to plead the nation's cause before colleagues in Brussels, comprehends the frustration.
"I understand that today there's a sort of irritation with France," Sapin said March 5 in Paris. "Objectively, France is weakened by its record."
Whatever the attitude of its neighbors, for now, bond markets are unperturbed. Investors are willing to pay France to hold their cash for up to four years and 10-year yields dropped below 0.5 percent last week for the first time on record.
The premium that France pays over Germany to borrow for a decade is down to 23 basis points from more than 70 points in January 2014 and more than 200 points at the peak of the sovereign debt crisis in November 2011.
With bond yields powered by the European Central Bank's unprecedented plan to buy euro-area paper, that's unlikely to change anytime soon. Benoit Coeure, a Frenchman who sits on the ECB's six-member executive board, cautioned March 12 that Hollande, like other European leaders, shouldn't squander the opportunity provided by low oil prices and a weaker euro to overhaul their economies.
Cyclical Recovery
"Be careful, the recovery is cyclical and led by low oil prices," Coeure said on Thursday at a conference in Paris. Cheaper energy "may last for some time, but could also not last that long."
European Commission Vice President Valdis Dombrovskis told French Senators last week that the commission is being more lenient on France than it was a few months ago.
It is now asking France to reduce its structural budget deficit by 0.5 percentage points this year instead of 0.8 points previously, he said. Dombrovskis said Feb. 25 that France presents "the most complicated case" among euro-area countries breaching their commitments.
The commission stopped short of fining France, the euro-area's second-largest economy, as it has in the past. "It's clear that France needs to step up its efforts on fiscal and structural reforms," Dombrovskis said.
Broken Promises
Sapin counts four instances when France has breached the budget rules, starting in 2003 when the governments of France and Germany shunted aside the rules in the face of slowing growth..
"Germany kept its word, it did reforms and France didn't," Sapin said. "That was the period when we saw a serious deterioration of our competitiveness, when we were losing market share in terms of exports."
Sapin and President Hollande currently plan for a budget shortfall equivalent to 4.1 percent of GDP this year, 3.6 percent in 2016 and 2.7 percent in 2017.
Economists in a separate Bloomberg survey consider the government's plan as unrealistic, and expect the deficit to reach 4.3 percent of GDP this year and 3.9 percent in 2016. Only three of 21 respondents see the government reaching its deficit goals.
Even so, the economists' outlook for French growth in 2015 has improved since a survey last month and is now 0.9 percent.
"What matters is that the deficit-reduction trajectory adopted by France is now convergent with that of the commission," Sapin said. "I know we have the capacity to do it. This will be the first time since 2003."
Before it's here, it's on the Bloomberg Terminal.
LEARN MORE